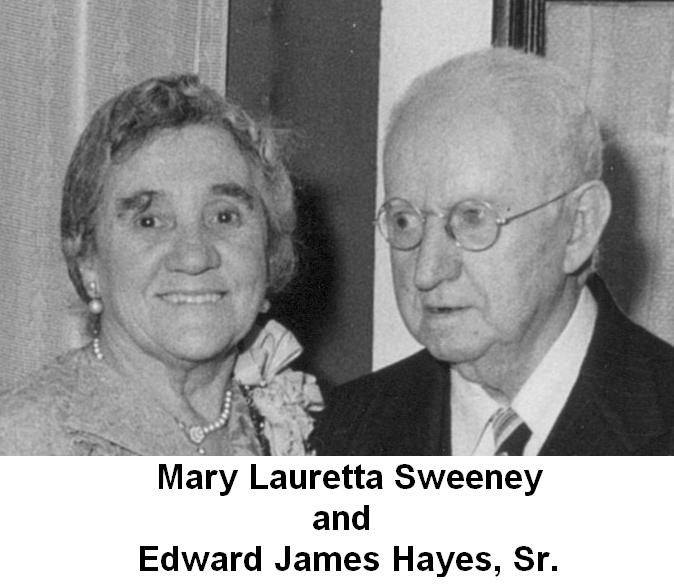 ANCESTRAL HISTORY
FOR THE LINEAGES OF
HAYES and McSWEENEY
This is a recording and documentation of the Hayes and McSweeney ancestors who emigrated in poverty from Ireland to settle and prosper in Massachusetts and Connecticut and to later spread across the U.S.A. Most of you reading this report will be descended from, or attached by marriage to, one of the two married couples shown above. Above left are Mary Loretta McSweeney and her husband Edward James Hayes, Sr. celebrating their 50th Wedding Anniversary in 1955. Above right are Patrick Francis Sweeney and his wife Hannah Agnes Hayes helping with the same celebration. This collection of information is an ongoing and developing effort. Please feel free to offer corrections, comments, historical anecdotes, family lore, photographs, documents, etc. While your browse this site, you will see colored 'hyperlinks' referring to additional information or other websites. Click on any of those colored links to advance to further information.
HAYES
The Hayes descent line will focus on two young children who survived infancy during the Great Famine of 1846-47, emigrated to America as young children, and eventually married in Southbridge, Massachusetts. Their families were nearby neighbors in Ireland and this undoubtedly led to their continued association and connection in America until their eventual marriage. Pierce Hayes and Johanna Finigan were both born in 1844 in County Tipperary, just north of the major city of Thurles, in the village of Loughmoe. (Today, the name of this village has been anglicized to Loughmore. It can also be found locally on signs in Gaelic as Luachmagh or Luachma.) Surrounding Loughmoe were a series of small 'Townlands" which were little more than neighborhoods or enclaves of just a few families. Through records, we can pinpoint the origin of these two ancestors to within just a few miles of each other.
Where is the Hayes family from?
Documents below show that the oldest known Hayes ancestors lived in and departed from the Townland of Clogharailymore, eastern side of the Village of Loughmore, a northern suburb of the City of Thurles, northern County Tipperary, Ireland. Further, the oldest known family bore children in the two sub-Townlands of Oldbawn and The Islands within Clogharailymore. These are tiny places only a few families live in each. The sub-Townland names would only be known by those living within the Village. The Hayes ancestors listed here emigrated to America from Loughmore.
Satellite view of Loughmore Village and Clogharailymore Townland.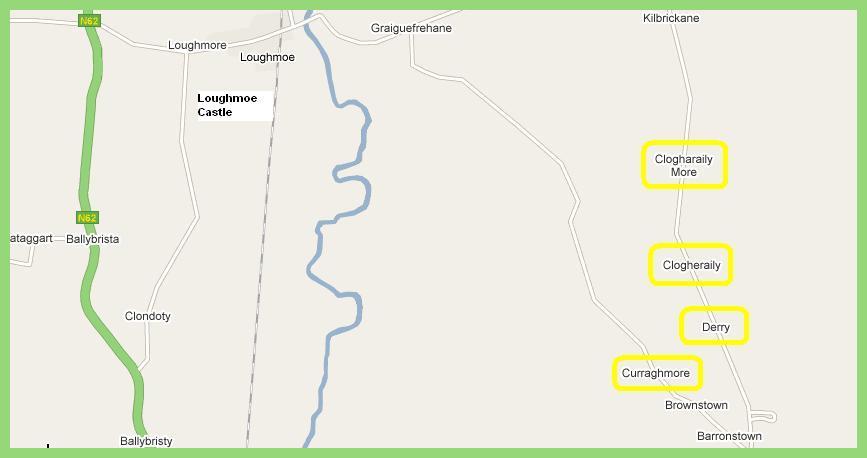 Google Map view of Loughmore roadways.
McSWEENEY (aka McSwiney in old Irish records and Mac Suibhne from medieval Scotland)
The McSweeney descent line will focus on a young couple, Timothy McSweeney and Margaret Neville who married in Macroom, County Cork in 1835. Both of these family names have a long heritage in the Macroom area. The McSweeney name can be traced back to 1250. This marriage produced eight children. The first son, by tradition, was usually named after his paternal Grandfather. The first son of this marriage was Patrick McSweeney. We therefore presume but can not prove that we all descend from one Patrick Mc Sweeney born around 1790. That search continues. Cornelius McSweeney was born in 1847 at the height of the Great Famine. Macroom was particularly hard hit at this time. He eventually moved to Bandon, County Cork to meet and marry Julia O'Reilly. They had three children in Ireland before emigrating as a family to Weston, Connecticut. Cornelius came in advance to secure work. Julia and her first three children sailed into New York on May 11, 1883 aboard the CELTIC. After their arrival in America several additional children were born to the family. A sad item of family lore is the transition of the heritage name from McSweeney (also McSwiney) to Sweeney. Mary Loretta McSweeney, my Grandmother, reported to me that she and her immigrant siblings were not permitted to enroll in the Weston public school because of their surname. During that period in the late 19th century there was widespread animosity and discrimination against the Irish immigrants. School officials feared that the "Mc" of the family name might foment violence in the schoolyard. The family visited a local court and filed for an official name change to Sweeney. Such a name change was not a totally foreign concept to this family. Ireland, at the time of their emigration, was ruled by Great Britain. There were numerous institutionalized efforts to diminish or crush anything that might relate to Irish nationalism. It was very common that government officials, when taking census, tax rolls, etc., would strip the "Mc" or "O'" from family names to enter them on government documents. Most certainly, the McSweeney family in Ireland had already been exposed and had become somewhat accustomed to their shortened future name.
Where is the McSweeney family from?
Documents below show that the oldest known McSweeney ancestors lived in the Townland of Mashanaglass, eastern suburb of the City of Macroom, County Cork, Ireland. After some time, some of the McSweeney line moved to the City of Bandon, County Cork. The McSweeney ancestors emigrated to America from Bandon.
At medieval times, Mashanaglass Castle was the seat of the McSweeney Clan in County Cork.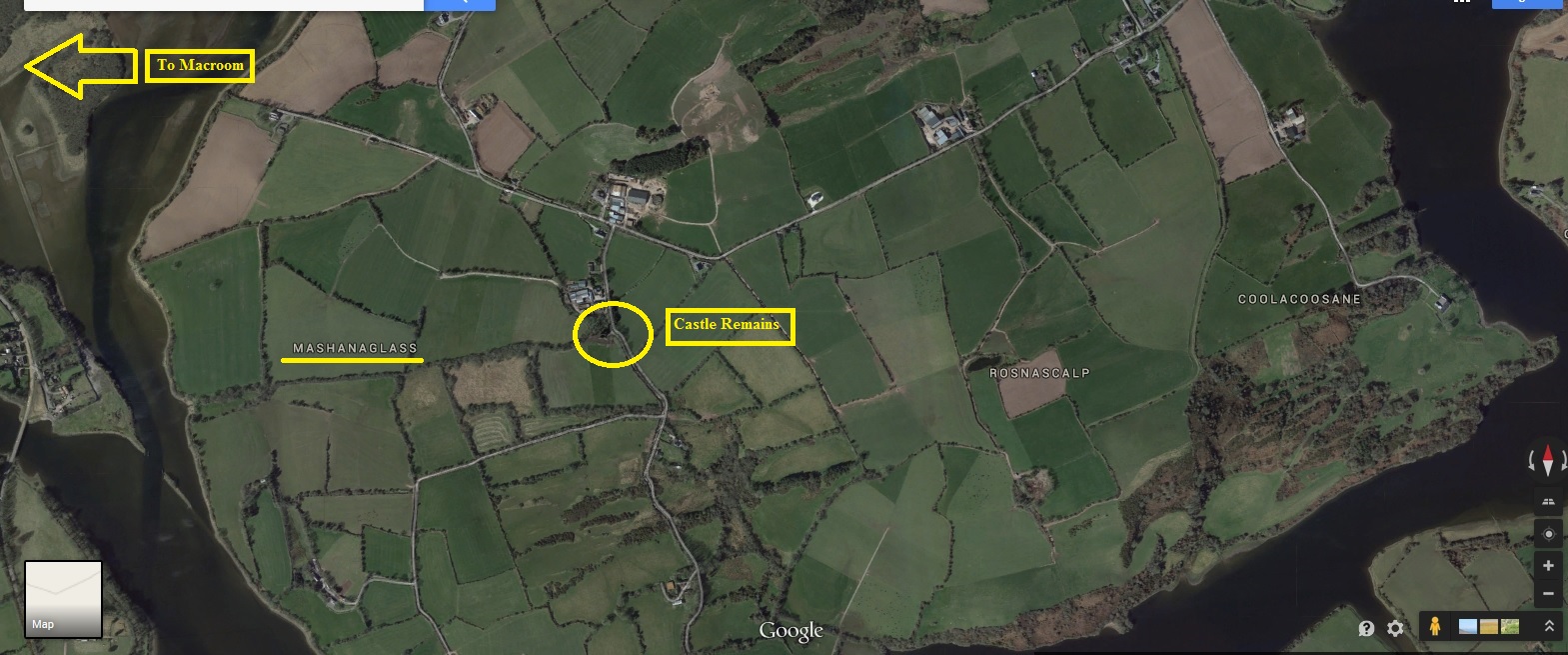 Satellite view of Macroom City and Mashanaglass Townland.
Google Map view of Macroom roadways.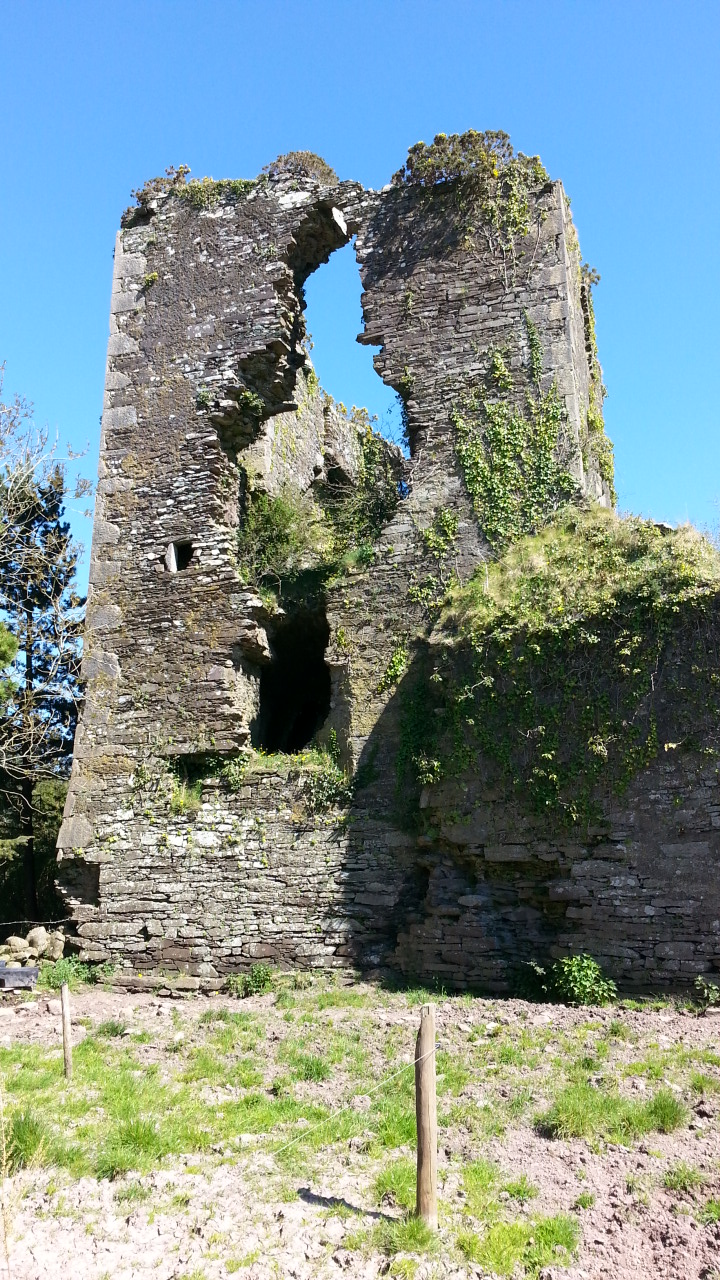 The ruins of Mashanaglass Castle.
Would You Like to Go There?
I have personally made four trips to our native homeland. 2009 with my son Brenden. 2010 with my brothers Paul and Vin. 2015 with my wife Regina. And 2016 on my own to help my fellow citizens celebrate the centenary of the 1916 Easter Rising which led to Irish Independence. I have a lot of information about travel logistics, lodging, local support people, etc. I am more than happy to share my experiences and knowledge with anyone who wishes to follow behind me. I am now working on a plan to return in September 2018.
Irish Citizenship
An Gorta Mor - The Great Famine of 1847-48 decimated the Irish population. A million people died and another million departed in hope of better lives across the world. To this day, the population of Ireland has never recovered and is still below its peak just prior to the Famine. As a quirk of Irish Law, descendants of Ireland are permitted to gain true Citizenship. The recognition is limited to a three-generation direct connection to someone born on Irish soil. Looking through the two family trees posted below, you would have to be in the McSweeney descent line no deeper than generation 5 and descended from Mary Loretta McSweeney Hayes in generation 3, the last person of our lineage born in Ireland. Both Ireland and the United States recognize and permit Dual-Citizenship. It is a complex, costly, and time consuming process to develop all of the documentation to qualify for this Citizenship. Patrick Hayes and later Paul Hayes have completed the process and gained recognition as Irish Citizens and even carry European Union passports.
The COMPLEXITIES of HAYES/McSWEENEY and McSWEENEY/HAYES.
On June 27, 1905, Edward James Hayes married Mary Loretta Sweeney (photo above left). A few years later on October 18, 1911, Patrick Francis Sweeney married Hannah Agnes Hayes (photo above right). The two families settled in Norwalk, Connecticut to raise their children. Sweeney descendants still live in Norwalk to this day. Because brother and sister married sister and brother, both the Hayes and McSweeney ancestry lines have become intertwined down through history.
ANCESTRAL RESEARCH ERRORS
An effort to uncover and share such a large family takes many twists and turns. Some can be true barriers to discovery. The 1890 US Census (which would have contained a wealth of information about these new families) was consumed in a tragic fire in Washington DC. Most early census records were hand written by a local census-taker traveling from home to home. In modern years, after the invention and adoption of computers, there has been an effort to re-read and then digitize the historical census lists so that they can be more quickly searched electronically. Numerous Internet services are available to help search through these records for a fee.) During my search, I discovered several MAJOR transcription issues when the handwritten census was read or interpreted erroneously by a human eye and converted to digital data. In the 1860 US Census for Southbridge, Massachusetts, the elderly Johanna Ryan is listed as REYAN. When one views the original image of surrounding pages, it becomes clear that the script of the census taker uses an upper case "R" with a pronounced loop at the end, causing this transcription error. n the 1870 US Census for Southbridge Massachusetts, you will not find the married couple of Pierce Hayes and Johanna Finigan. However, if you search by their known children and then work backwards, you can find these parents listed as PIERRE and ANNA. A similar transcription error occurs in the 1910 US Census for Norwalk, Connecticut. Searching electronically, you will not find any Hayes family. Through a convoluted process you can discover them and then realize that whoever read the hand script HAYES from the written census entered it as HARGES in the digital version. I made contact to the Census Office and had that digital error corrected. In the 1920 Census of Hoboken, NJ, Francis Bernard Hayes is listed as "Charles". ?? Frank's son, Henry Arnold Hayes was always known to his family as Arnold and is listed in the 1900 and 1910 Census as Arnold. Who knows what other glitches we may find! Working with ancestral records in Ireland is even more challenging. Historically, the Irish haven't been particularly fastidious about spelling. One hundred and fifty years ago, the vast majority of Irish were illiterate. Most assuredly, our earliest ancestors were illiterate. They knew how to speak their own name, but not how to spell it. Anyone who wrote in church or government documents would simply have to rely on their own best judgment for spelling local names based on what they heard. There are two land tenancy records for the elder Pierce Hayes. In one of them he is written as HAYS. Numerous records freely exchange Johanna, Johannah, Hannah, and Hanna for the same person. Johanna Finigan's church baptismal record lists her as JUDY, a known local contractive form of Johanna. There are numerous alternative spellings for Finigan, with our ancestors using the least common form. In the Bandon Parish Baptismal records, the three children in succession are listed as Timothy Swiney, Bridget McSwiney, and Mary Swiney showing that the "Mc" can be added or dropped without substantial meaning, even within the same sibling group. In addition, Mary's birth certificate is clearly Sweeny but her church baptismal record is Swiney. Typical and common spelling variations throughout old Irish records. County Cork has at least 21 different modern variants for spelling the ancestral Scot Gael name of Mac Suibhne.
THE POVERTY ROOTS
At the time of the Great Famine the Hayes and Finigan families were landless, peasant, farm tenants. The men likely worked fields or livestock for an absentee British land owner. The women likely worked as home domestics for local officials or landed gentry. Based on the known cottage rental records, the Hayes family likely lived in a single room mud hut with a thatched roof and one door. Period. Similar rental records show the Finigan family in a slightly more elaborate mud cottage, probably with two rooms and a window and a chimney. The population of Loughmoe Village was six times greater than it is today. Remaining in Ireland, the odds of death by starvation or disease were extremely high. Escape to America, regardless of how sad the exodus from their native land, was the best thing that could ever have happened to them. Now, you may ask yourself how a landless peasant could afford to buy a ticket to America? The answer, of course, is that they couldn't; it was given to them. The pauper's welfare was ultimately the responsibility of the landowner. If the family abandoned their meager possessions and went to the local poor house for relief, the owner of the land from whence they came was immediately taxed for the cost of their care. It didn't take long for landowners to realized that giving away passage tickets was cheaper than paying for relief. Hundreds of thousands were transported this way. The voyage was no scenic cruise. Read this for a good understanding of the mass exodus on Coffin Ships.
THE RANGE OF LIVING DESCENDANTS
The eldest living member of our lineage is Sister Therese Hayes (1938) of Philadelphia, PA. The newest member of our lineage is Kelsey Rion Hayes of Phoenix, AZ to Paul & Jessica Hayes. She was born October, 2017, two hundred and twenty-five years younger than her oldest known Hayes ancestor. Click on the names to see a picture.
WHERE DO WE ALL LIVE NOW?
The first Hayes immigrants to America lived in Southbridge, Massachusetts.
The first McSweeney immigrants to America lived in Weston, Connecticut.
Family descendants now live throughout the United States in 19 states plus the District of Columbia with a concentration on the eastern states. Through DNA, we know of one distant relative living on the Island of Rarotonga in the south Pacific, about as far from Ireland as one can get! I have met several people in Ireland who bear a close resemblance to some of my siblings but we have not verified a true connection through documentation or DNA testing.
DOCUMENTATION
The following Family Tree Reports are in a continual state of flux. Recently they have been altered on an almost daily basis. You are welcome to download a copy. Just remember to check back periodically and re-download the latest version.
Family Tree Report for the NINE generations of HAYES.
Family Tree Report for the EIGHT generations of McSWEENEY.
Here we share three handwritten pages for Births, Marriages, and Deaths from the Sweeney Family Bible, which belonged to Hannah Agnes Hayes Sweeney. The very florid handwriting script on these pages was done by the hand of her brother, Edward James Hayes Sr. This is the only known family document of any form which identifies and brings us to the Village of Loughmore, County Tipperary, Ireland. Documentation of the local village was a very key factor in the success of our genealogy research.
We document our direct connection to Bandon, County Cork with the Marriage Certificate of Cornlius McSweeney and Julia O'Reilly in 1874 and the Birth Certificate of their first son, Timothy, in 1875.
We document our direct connection to Macroom, County Cork, with the Marriage Certificate of Timothy McSweeney and Margaret Neville in 1835 and including the birth certificates of their eight children. This one is particularly important to me. First, the first child of this marriage was named Patrick. If the traditional naming convention had been followed, then that boy's GrandFather was also named Patrick and the oldest name we can find in the McSweeney lineage. I'm proud to know that I carry that oldest name. Second, this first child is documented as born in the townland of Mashanaglass, ancestral seat of the McSweeney family, just a few miles east of Macroom. Images of Macroom roadways and the Mashanaglass Castle can be found near the top of this report.
The McSweeneys (or Mac Suibhne) clan originated as Gaels in Scotland. They were fierce warrior mercenaries known as Gallowglass. Click here, it is a good read. In medieval times they were hired in to fight for and protect the McCarthy clan. As reward for such service they were given possession of the Mashanaglass Castle.
The MYSTERY of the Finigan and Ryan ages. Both Pierce Hayes and Johanna Finigan had mothers with the surname Ryan. Therefore, both of them would have had maternal grandmothers from the surname Ryan. Please understand that Ryan is the single most common surname in County Tipperary. Its a bit like trying to find Mr. Lee in Hong Kong! The 1860 US Census for Southbridge, MA has Henry Finigan listed at age 55, wife Bridget at 50 and a daughter Margaret at 14 (among others) and his mother-in-law, Johanna Ryan listed at age 50. The subsequent 1865 Massachusetts State Census has Henry listed at age 65, Bridget at 65, Margaret at 18 and an elderly Johanna Ryan at age 70. Wow, these ancestors sure age rapidly in only five years! Only the daughter Margaret has a consistent age gap between the two documents. We're certain that these are the same families. Discrepancies in ages can occur quite easily through the transcription process or through the fact that the families had no document history and were themselves only partially literate. This elder Johanna Ryan can now be identified as the mother of Bridget Ryan who was the mother of Johanna Finigan. The oldest ancestors that we can document are Pierce Hayes (the elder) and his wife Margaret Maher who married January 23, 1811 and five children including the eldest son, William baptized December 11, 1811. Based on their marriage date, we suggest that Pierce and Margaret were born around 1785-1790 but no paper documentation exists for that period of time. Johanna Ryan was apparently born in 1795 and would be contemporary to Generation #1 of Pierce Hayes (the elder) and his wife Margaret Maher. Johanna Ryan represents an entry equivalent with our oldest documentable ancestry, a third entry in that generation. She is certainly the oldest ancestor to have reached America. From Johanna Ryan down to the youngest descendant, we can now place NINE generations on American soil.
The Union Army Enlistment of Pierce Hayes in 1861. At the beginning of the Civil War, an expatriate Irish rebel named Thomas Francis Meagher toured the U.S. giving inflammatory speeches about Irish Nationalism and the need for Irish immigrants to join the Union Army of the Civil War. Great Britain had offered support to the Confederacy and this was a good way for patriotic Irish descendants to get back at the English! From the dates and times, it is likely that Pierce Hayes was directly influenced by Meagher and enlisted in an all-Irish regiment, the 28th Massachusetts.
PHOTOGRAPHS
We share a collection of vintage family photographs here. You may click on any single photograph to enlarge it. There is a link on the right to run all the pictures in a continuous slide show. If you can aid in the identification of persons or events depicted here, please let us know. If you have any similar photographs to share, please send them along that we might include them in the album for all to see.

1898 Good Hill School Pupil Assembly from Weston, Connecticut with four Sweeney children included. This is the oldest known photograph for persons in either ancestry line. There is no known photograph taken prior to 1898.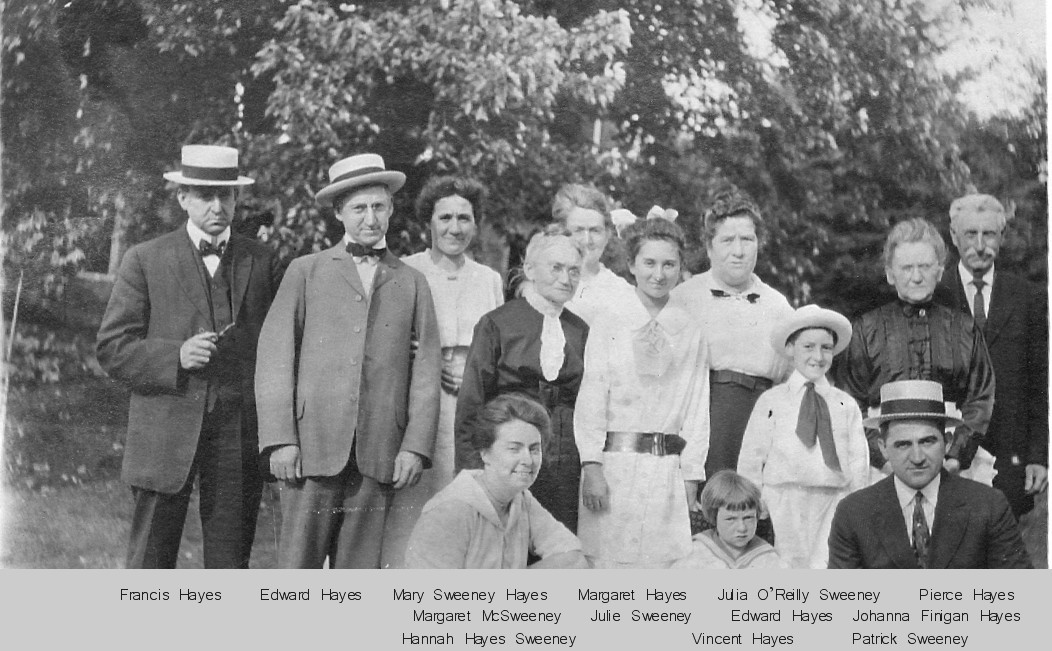 1916 Family elder assembly. This photograph of Hayes and McSweeney elders represents photo documentation of the oldest persons in our lineage who were ever photographed. Pierce Hayes (1844), Johanna Finigan (1844), Margaret McSweeney (1846), Julia O'Reilly (1854) and Mary McSweeney Hayes (1882) were all born in Ireland. We believe this picture is from 1916 and was likely taken on Margaret's seventieth birthday celebration. In all likelihood, the photographer was Cornelius Ambrose Sweeney (1885). There is no known photograph for any ancestor in either family line born prior to 1844.

Front Page masthead of the New York Tribune for Saturday, June 28, 1862. This newspaper issue documents the horrific Civil War Battle of James Island wherein Pierce Hayes was severely wounded. An original of this newspaper edition hangs in my home. I have transcribed the entire battle description and casualty reports. The name of Pierce Hayes appears twice in the article. Just ask if you would like a digital or printed copy of the article. This certified original newspaper is believed to be the oldest paper document in our family possession to list the existence of an ancestor. We have seen older church documents in Ireland, but this one is ours.

Mapping Plan for Loughmore, Thurles, County Tipperary. The historical name of Loughmoe was known to the earliest ancestors in our record. The name was anglicized to Loughmore during a country-wide mapping effort by British cartographers. The name has persisted to the present. We have documentation of Hayes, Finigan, Ryan and Maher ancestry in several of the small townlands east of the village center. Derry, Curraghmore, Clogherailymore, and Clogherailybeg feature prominently and are abutting within a very short walking distance. Near the center of the nearby Village of Loughmore is Loughmore Castle, ancestral home of the Purcell family from 1400 to 1700. If it were possible to document peasant ancestors back through this earlier time we would undoubtedly find workers who built the castle, served its owners, and managed the surrounding lands. A more detailed description of Loughmore Castle and its history can be found here. You can review a short Photo Tour of Loughmore by clicking here.

Mapping Plan for Bandon, County Cork. A marriage certificate and birth records show that some of our family lived on Dealyard Lane and Market Street in downtown Bandon, south side of the river. The first three children of Cornelius and Julia were born here. Those of us old enough to remember will acknowledge that the immigrant McSweeney children told us directly that their root homeland source was Bandon. The search for physical documentation continues.
Mapping Plan for Macroom, County Cork. A marriage certificate and several birth certificates show that our oldest known McSweeney ancestry comes from the environs around Macroom. The townland of Mashanaglass is one mile east. See the details of the certificates of Timothy McSweeney and Margaret Neville in 1835 and the birth certificates of their eight children.
MAJOR CURRENT FAMILY EVENTS
March 5, 2010 Morgan Rose Haugley is born in Cary, NC.
June 13, 2010, Philadelphia, PA, Therese Hayes celebrated her Golden Jubilee in the convent. All of her younger siblings were in attendance to help celebrate. A report was published in the Tipperary Star newspaper and in the Thurles.Info blog.
October 1, 2010 Willard Randall Farnham born in Raleigh, NC.
July 29, 2011 Madeleine Elizabeth Hayes born in Atlanta, GA.
October, 29, 2011 Jean F. Tiska has passed away at the age of 84. She was the eldest Hayes descendant at the time of passing.
July 15, 2012 Brenden Patrick Hayes married to Heather Smith in San Jose, CA.
November 17, 2013 Mia Rose Hayes born in San Jose, CA
December, 2013 Audrey Claire Hayes born in Raleigh, NC.
November, 2014 Marshall Thomas Hayes born in Acworth,GA.
March, 2016 Jack Edwin Hayes born in Athens, GA
October, 2017 Kelsey Rion Hayes born in Phoenix, AZ
WEBSITES OF RELATED INTEREST
City of Thurles News and Information Blog
Loughmore Castle History and Photographs
Loughmore Church which would have been the spiritual and community focus for our Hayes, Finigan, Maher, and Ryan ancestors in that community.
A very complete history of the Great Famine.
Southbridge Mill History The early Hayes emigrants worked in woolen mills in Southbridge, Massachusetts. A good historical description of the town's industrial development can be found on pages 7 through 10. The employer was most likely the Hamilton Woolen Mill. The original mill building can be seen here. Looks like a fun place to work!
Bradley Edge Tool Company, the first employer of Cornelius McSweeney Sr. and Timothy McSweeney. In the 1900 US Census for Weston, Connecticut, Cornelius is listed with a trade of "edge tool grinder" and Timothy as "tool polisher".
28th Massachusetts Regiment of the Union Army. Browse to the Muster Sheets and select Company H to find Pierce Hayes.
Civil War Battle of James Island in which Pierce Hayes was seriously wounded.
The North Carolina coastal fine art portfolio of Joanie Tiska Kennedy, a descendant in the Hayes lineage.
If you have any question, comment, document, anecdote, or photograph, you may e-mail me directly here at: guzzihayes@gmail.com