MOTO GUZZI CLASSICS
2017
SAVOIA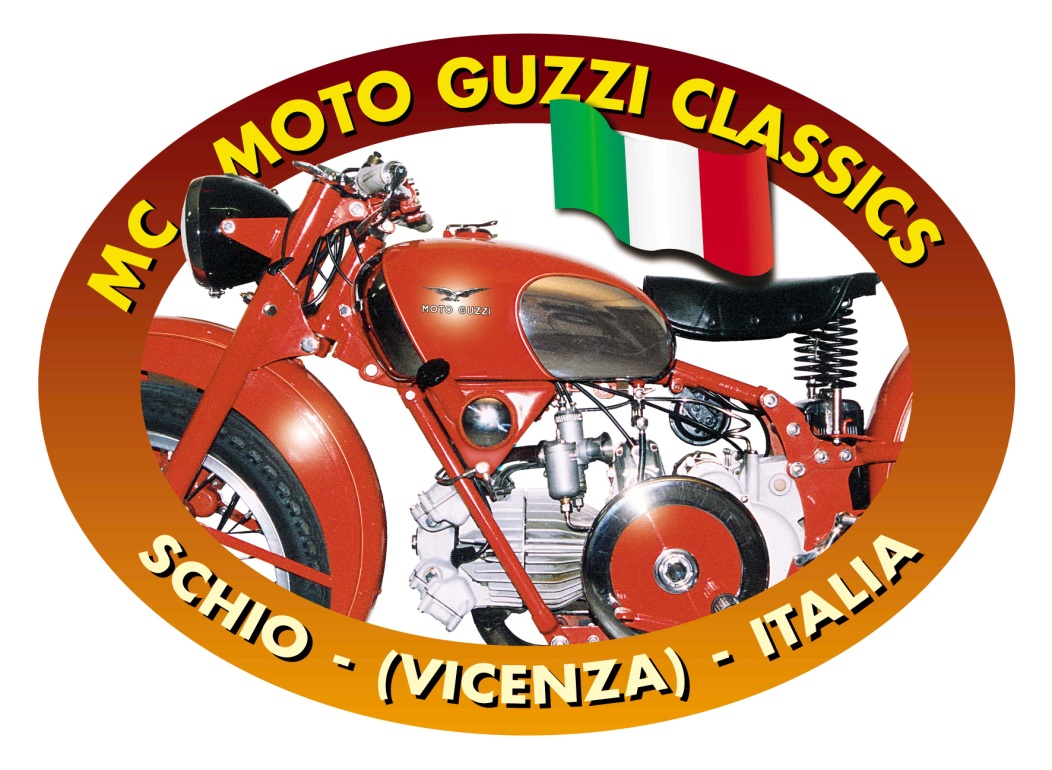 The kingdom of Savoia was a medieval power with land in modern northwest Italy and southeast France. Essentially covered all of the French and Italian Alps and lowlands below. The heraldry color of Savoia was a version of powder blue. Hence modern day National sports teams use this blue to represent Italy. My own Guzzi Falcone from the Polizia di Stato has original paint of Savoia Blue. Regina and I had some issues with travel this late in the tourist high season so we left our moto riding clothes at home and volunteered to drive the van full of luggage and wives. The women were great travel companions. Regina got a good workout speaking Italian with them every day. They never complained about my driving. Never talked too much. Were always ready to roll when the bikes pulled away. Brava, ladies!
We started and ended this tour in the small town of Bard at the lower end of the Val d'Aosta. Up behind our hotel was the medieval Fortress of Bard. We rode north through the valley and then eventually west over the alps into France. Back and forth over numerous passes. The first few days were in rain and VERY cold. One of our planned passes was closed due to snow avalanche and rock fall. Made for a long day to go around.
Unloading our transport vans upon first arrival. The vans will remain here for the week.
Charming hotel used for the first and last nights of our tour.
The ONLY parking space at the hotel reserved for my transport van.
After several days of riding in cold, wind, rain, and mist, President Yvan finally gets to enjoy some warming sunshine.
The Tour de France bicycle race came through here last week and had finish lines in several locations along our tour. It is absolutely amazing to drive these alpine roads and realize that human machines on bicycles can do this at nearly the same uphill speeds.
The bicycle finish line at the Col d'Isoard. 2380 meters = 7808 feet.
At the border. 2802 meters = 9193 feet.
A little war memento. German gun bunkers to protect the surrounding valleys.
President Yvan enjoying Col d'LaBonette. 2802 meters = 9193 feet.
And even crowds of bicycles come up here to make moto and car parking difficult!
Sorry, French food sucks. We always eat exquisite meals in Italy while the food is blah just a few miles away in France. We did well in Normandy last year, but not so this year. Food was best at the start and at the end when we were on Italian soil.
Raw sausage which literally melts in your mouth.
Pasta and shaved truffle mushroom.
Whipped potatoes as frothy as the foam on your beer. With mushroom garnish.
Include the shell to verify that there are scallops included on the Frutti di Mare Pizza.
The Italians may be great at food, but they take traffic confusion to an art form. Here we are repairing a cliffside guard rail. Traffic has to be limited to one direction at a time. The backup in both directions goes for hundreds of vehicles. In the midst of this, the cement truck arrives to pour footings and naturally he takes all of the remaining road. Tempers are flaring. Eventually the cement truck is cleared but somehow traffic is released from BOTH directions at the same time. What a circus!
A lovely roadside mural of a postman and woman above.
We visited the famous wine town of Barollo and toured the Museum of Corkscrews or Cavatappi. I couldn't imagine that would be very exciting. WRONG! What a fantastic collection and variety. Quite worth the time.
My personal favorite!
BREAKDOWNS
One bike gave us a real headache with ignition and starting until we discovered a broken wire on the magneto capacitor.
Impromptu waterproof protection for the instruments and the fuel cap.
Caught just in time! This drove in to the evening hotel without issue.
Patrick Hayes
Fremont CA