MOTO GUZZI CLASSICS
2012 TOUR
GALICIA
NORTH PORTUGAL AND NORTHWEST SPAIN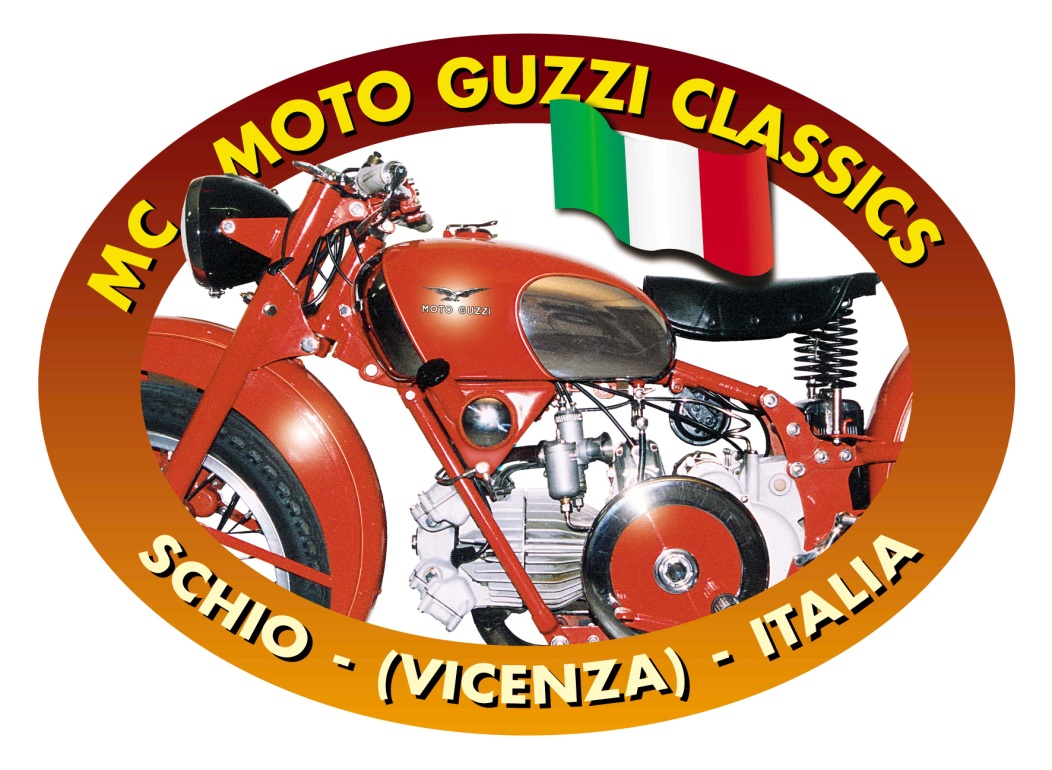 We toured in the historical region of Galicia which encompasses northern Portugal and northwest Spain. We started and finished in lively Porto, Portugal. Our week of touring encompassed a counter-clockwise loop of Porto-Vila Real-Leon-Gijon-Viveiro-Santiago de Campostela-Cambados-Porto. The motorbikes were shipped by container to a warehouse in Porto. I flew in two days in advance of the Club members to arrange rental of a support van and oversee the un-crating of the 16 motorbikes. The rental van proved to be quite a challenge. Although we had reserved a specific vehicle in advance, what was available at rental time gave us two choices. We could have a mini-van which would barely hold our group luggage and no room for a broken motorbike, or we could have a HUMONGOUS van that could hold luggage and four motorbikes if necessary. Reluctantly we had to take the big one. As I was the renter and therefor the only driver, I wasn't so eager for this driving task. Good thing we had it as we had some days with multiple broken bikes. Only after we had committed to the rental were we told that our road service or breakdown insurance did not cover outside of the country of Portugal. Rules? We don't need no stinkin' rules. If it breaks, we'll drag it back to the border.
We had a wonderful tour in spite of several days of continuous rain and just a little bit of Police hassle. The regional economy was so bad that there were few other vehicles on the roads and the hotels and restaurants were empty and eager for our business. It was quite shocking to see the depth of this economic depression as we will share later in the photos.
We were being hosted in Porto by a family who run a large foundry business with several warehouse locations. I was assigned a few of the workers and we efficiently unloaded all of the motorbikes from their crates and stored the crates in a now-dormant warehouse. Using several family cars and vans and my rental van, we returned to the airport the next day to fetch all of the Club members and their mountain of luggage. We ferried everyone to the warehouse to meet their beloved motorbikes and began with a shake-down tour of Porto and its surrounding suburbs. Travel was a bit hectic as Portugal had only recently invoked tolls for its major roads and had set up a sophisticated computer/photo monitoring without booths. One muse either use the back roads, or arrange to pay on the Internet. The whole region was in chaos as a result. Nobody drives the highways and the local roads are a traffic mess.
We started at the mouth of the Douro River, the port of Porto. The hillside is covered with storage warehouses for the aging of wonderful, potent Port Wine. The harbor was full of these little tourism boats. This one had a motor. In older times, it would have been oar driven and would have carried casks of port wine from the upstream vineyards to the Porto storage warehouses.
How long do you suppose these barrels have been aging? These were about 8' in diameter and the warehouse was full of them.
A little further downstream we came upon the Eiffel Bridge. Same engineer as the Paris tower.
We stopped at a small, local, roadside restaurant for an impromptu, unreserved lunch. Twenty people? Sure, no problem. In this economy they NEED the business and will accommodate anything. This also happened to be the last day of the school year. The kids had all been sent home for the summer. Our restaurant was hosting a bevy of local grammar school teachers celebrating the year. It didn't take long before we were buying a LOT of wine for THEIR table. The place got pretty raucous. I'm not sure what the local customers thought about it all.
And for desert?
After the local frivolity we headed up the Douro Valley towards eastern Portugal and into Spain. The Douro Valley is chock full of wineries of all varieties. There are gorgeous serpentine roads along both sides of the river and it is just perfect for our motorbikes on a leisurely pace through the countryside.
We'll were scheduled to tour for a week and doing roadside picnic lunches each day. So, of course, we needed to stock up on travel supplies. This is the second half of our group purchase as the first half had already been loaded into my van (see the forklift?). We were prepared to eject spare parts and odd luggage if necessary to fit this all in. Good thing I got the BIG van.
Here are some samples of our daily picnic fare.
We met these two friendly chaps at a highway rest area. They were very enthusiastic about our tour and we gave them a few casual gift souvenirs. The concept paid off in spades. About ten miles down the road, one of the bikes ran out of fuel. It was a particularly dangerous area. This was a four-lane highway and one side was still being constructed. So, all of the traffic was diverted to one side with travel in both directions and no breakdown lanes and no median. And on a curve to boot. Since we were just starting our tour, we had neglected to fill our spare gasoline can (buying the wine was more important). The Club continued ahead to find an exit leaving this one rider alone. I continued on several exits until I found the nearest fuel station. Good thing I had purchased an Iberian peninsula map for my GPS! Just as I finished filling and paying for the fuel, our two police friends showed up. They had followed some miles behind us and had come upon the stranded rider. They took my fuel can and sped off with lights and siren for the rescue. Not long later the entire Club arrived to fuel up and then finally our one lost companion being led in by the flashing blue lights! This was beyond the call of duty so now we giae them some of our wine!
While most of our bikes are Falcone, we did have one Astore and one older GTW along. Also, we had one brave soul, Luigi, on a 250 Airone. I rode this bike a few years ago and it will do quite well on the flats. Just not enough horsepower to challenge the long grades. It is a beautiful machine in its own right.
The back country was laced with beautiful, uncrowded roads.
The roads were uncrowded because the economy had collapsed and none of the locals could afford fuel to go anywhere. Nice for us on a tour. Not so nice for them. Here was our hotel just outside the major city of Leon. That's my van. The other two cars belonged to the cook and the desk clerk. We had a lovely stay in a very nice hotel. The 'osso buco' dinner was stupendous. They were glad for our business. Hard to float such a large hotel with no guests.
After dinner we toured the center of old Leon. As the sun set, all of the spires of this cathedral would gradually be covered by overnight roosting storks. Hundreds of birds. The pecking order combat is chaotic.
I always appreciate creative doorways. This protects a local bank.
One day we stopped to tour the inner workings of a huge foundry/fabrication plant. BIG machines inside these grounds.
We stumbled upon this pile and suspected they were making counterfeit 'volani' or flywheels for our Falcones. :-)
At the conclusion of our tour, the owner took us in for a luncheon and he personally took responsibility for slicing and serving the meats. This method of clamping the cured ham leg is popular throughout the region.
Remember the two, nice Portuguese police officers who helped us out? Well, we eventually got to meet two not-so-nice Spanish police. We were driving along the highway in a light, steady rain. I was trailing directly behind the motorbikes in my van. Low and to the right I could see a police car coming up an entry ramp to join the flow of traffic. The last thing I needed was to be followed by the police, so I slowed politely and made room for their entry into the lane. I thought the courtesy might impress them. NOT! They pulled in line just in front of me and followed the entire group for several miles. I presumed they were just eyeballing the old bikes. Then they gradually accelerated out into the fast lane to pass. Ooops, not so fast. After passing two bikes, they pushed their way back into line, hit the lights, and signaled by arm for the last two riders to pull over. I drove the service van, so naturally I had to pull over with them. The rest of the Club continued on. I just sat in my van while the two riders and the two police stood in the pouring rain having a chat. None of us spoke Spanish. The police didn't speak Italian or English. The 'conversation' was predominantly hand signals. The gesturing was enough for me to realize that this event was no longer going to be fun. Seems that Spain has a requirement for headlamp use when it is raining. Seems the motorbike maintenance wasn't quite up to snuff and these two bikes didn't have working headlights. I think if they had pulled over the entire Club they might have found half a dozen more with non-functional lights. These two had to pay 100Euro each ON THE SPOT. I used my cell to find out where the Club had stopped so that we could rejoin them.
Everyone got busy with the repairs that night at the hotel.
We do like to stay in nice hotels.
The next day it continued to rain. We followed our GPS on a 'shortcut' which took us through a gravel quarry. This road got seriously bad and just trashed the beautiful motorbikes. The upper end was like a goat track with bushes scratching both sides of my van simultaneously.
And the destination?
Finally, as we reached the northwest corner of Spain, the rain stoped and we enjoyed some glorious coastal weather. Our picnic stop this day was at the historic lighthouse of Faro de Corrubedo.
Just as we were about to leave, a few cars came up the entry road. Out popped a professional photographer and a local couple who had just been married and were here for some special wedding day photos. Well, it just takes a few Guzzis to make any occasion special. She never saw the black chain grease on her dress. Nice to see that her shoes matched.
Our final picnic lunch before the end of the tour found us in a major harbor at low tide. Everyone out there was clamming for their own festive dinners.
While these bikes are generally very reliable, we do have minor breakdowns and repairs every day. On occasion we also get the rather complete failure. The GTW on the right put a valve head through the piston crown and was on board for several days. Had it been a Falcone, we carry a spare cylinder, piston, and head and could have repaired it overnight. As the older GTW a unique model, he was down for the count. The bike on the left simply snapped off the right foot peg leaving nowhere to put the riders feet. Only 50 miles from our finish back in Porto so we just carried it to the end and he can repair it back in Italy.
Finally back in Porto to re-crate the motorbikes for return shipment to Italy.
On the way out of Portugal, I flew to London to join some British friends and attend the Guzzi Singles Rally at Graham Hemshall's farm. After that I flew to Washington, DC, rented a car and joined my brother Vin at the US Guzzi National Rally in Buena Vista, Virginia. Finally I returned to home in California after a whirlwind of a tour.
What's next? After two years of remote, foreign tours (Bavaria and Galicia) the Club will be staying home in Italy for local travel in 2013. We are planning to tour the region of Maremma, south of Tuscany and north of Rome. This region is not highly featured on the International tourism routes but is beautiful and full of very ancient history from the Etruscan period of Italian history.
Patrick Hayes
Fremont CA