JUNE 2008
PIEMONTE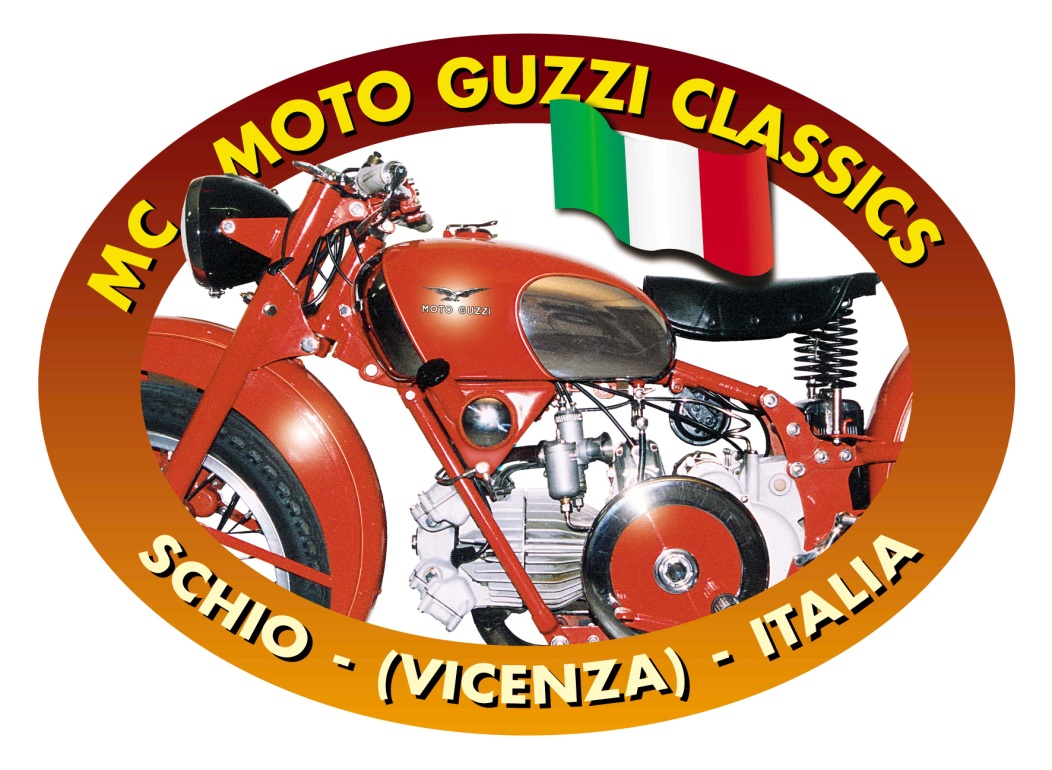 My string of great fortune on Guzzi Vintage rides has finally hit a little bump in the road. Over the years I have traveled often with Moto Guzzi Classics, a vintage Guzzi Falcone club from Vicenza, Italy. Each year we have had SOME weather issues. Even driving in some snowfall on Corsica in 2002. In June, 2008 we did the Piemonte Region of northwestern Italy. It did not rain continuously for the entire tour, but we had some rain EVERY day. It meant an extended week in humid riding gear and some dicey riding on circuitous alpine roads. Part of the tour was truncated because there was still snow closing some alpine passes and some roads had been washed away by torrential rains in the weeks leading to our tour. I have fewer photos this year because the visibility was poor or I didn't risk having the camera out in lousy weather. The following pictures may look nice to you, but that's because I only took pictures when it was actually nice outside. There was enough pleasant weather to make an enjoyable trip. And certainly we had enough dry road opportunity to 'get frisky' with the motorbikes. But the rain is a real nuisance. When it occurs off and on in several spurts during the day it becomes a real burden to stop a group of twenty and have everyone suit up. Often this is done is less than secure roadside settings. To avoid such incidents, we simply press on for miles after the rain has stopped. Riding in the sunshine with rain gear overclothing means that you get just as wet inside as if it were raining and you didn't have waterproof gear. The water always seems to be in the wrong place. It is especially a nuisance for me. I'm on a very valuable, borrowed machine. Yes, I want to have fun, but I sincerely respect the generosity of my hosts. The last thing I want to have happen is ruin something valuable and return it in a damaged condition. I would feel responsible for restoration cost and that could be very expensive on a vintage machine. None the less, Italy is always a beautiful place with beautiful, friendly people and the most exquisite food and wine you can imagine. These tours always provide a memorable experience. I share here so that you may enjoy some of my good fortune in travel. Enjoy!
Click here for a map of the Piemonte Region.
Tuesday, May 27
I use air mileage credits to keep my expenses down. However, using this process generally means weird routings and schedules. My first flight out of San Francisco is on Air Canada to Calgary. Simple to get to the international terminal. But for some strange reason this flight departs from the domestic terminal. Great! I'm crunched for time and now I have to schlep all my gear all across the airport. The Air Canada people in San Francisco assure me that luggage is checked through to the end. When we arrive in Calgary, I have to go through Canadian Customs. "Where's your luggage?". Um, the people in San Francisco told me it was checked through. "Well, we're not the people in San Francisco! Without luggage, you don't go anywhere. Go back through the terminal and get your luggage and come back here." My, what a gentle and congenial reception from our neighbors to the north. All set? Nope! My next flight leg is to Frankfurt. The plane going TO Frankfurt first has to come FROM Frankfurt. It was broken there and now is two hours behind schedule getting to here. There goes any margin of time I had for local connection to Milan and a leisurely train across Italy. When I finally get to Frankfurt, we have another two hour delay before going on to Italy. Once in Italy, I train to downtown Milan about sundown time, subway to the main railway station, then train across Italy to Vicenza near mid-night locally. Twenty-seven hours from my house to my host in Schio.
Thursday, May 28
This is a day to get organized and to reset my internal clock. We drive around the Vicenza region to visit with a few old club members who are too senior to ride any more. A nice visit at the private Museo Fancon (80 Guzzi singles). We stop at the Vicenza Ducati dealership to visit Mariano, our mechanic on the 1999 Southwest tour. This year we are being joined by Larry Loyd of Las Vegas. Larry and his late father John were quite helpful to us in organizing and supporting the 1999 Southwest tour. During this shop visit, Larry is quite pleased to see photos of his old Ducati on the shop wall. Mariano had driven it on a day loop through Death Valley. Sadly that bike is long gone from a track day incident.
Friday, May 29
A little more local sightseeing and them some important technical visits. We visit a specialty fabrication shop of someone who makes reproductions of all of the Falcone engine parts. Hard to call them reproductions as they are far superior metallurgy and machining technology than was ever used by Guzzi. He makes block castings as well as all internal machined shafts and gears. There is a vast and active cottage industry in Italy for support of our beloved old Guzzi Falcone. Some people do machining, some sheet metal, some instruments, etc. The result is that you can essentially now build an entire new Guzzi Falcone without using a single original piece manufactured by Guzzi. You just have to know how to find them. Similar to what is happening in the Harley Davidson clone market. In the afternoon we visit an instrument reconstruction shop. This guy restores and recreates dash instruments for the most rare and exotic vintage cars from around the world.
Saturday, May 30
In anticipation of the tour and poor weather, I get NO sleep. Not more than an hour into our mountain touring and we hit rain already. We stop to suit up and one of my rubber, pull-over rain boots just splits totally up the back seam from heel to top. First rain, first day, I'm in trouble. I spend the rest of the day moving gingerly with a plastic shopping bag wrapped on my leg with rubber bands. When we finally stop at Ponte di Legno for the evening, Gordon de la Mare and I go off on a crisis shopping mission. My Italian language is reasonable enough for this task. After several false starts, we eventually find a well stocked general hardware store so I can buy a pair of green 'Wellies'. Those ubiquitous olive-green gardening boots. Not very fashionable or particularly safe for moto riding, but they are cheap and they do actually serve me quite well for the duration of the trip. Call the fashion police.
Getting organized for our departure.
Loading the spares and tools.
No Guzzi Falcone tour would be complete without a mini-fridge to maintain the quality of our prosciutto and cheeses for picnic lunch.
Once the essentials are all loaded, we now evaluate the room for our personal luggage.
Sunday, May 31
We awaken to a crystal clear mountain morning. Mid-morning we stop for our traditional espresso break.
All satisfied and all suited up, we launch the bikes and Elio Perin discovers he has a flat tire. No obvious puncture so we opt to just re-inflate rather than strip and repair. Our tool supply includes three manual pumps, not one of which will generate pressure. For next year, I have already acquired a 12v pump to operate off the support van power source. Eventually we get going. We pass around the northern and western shores of Lake Como.
One of my favorite towns on Lake Como is Varenna, nestled on this point. I try to stay here when visiting the Guzzi factory. Go around that point and down toward Lecco a few miles to reach Mandello del Lario.
What a tease. We can almost see our heritage factory across the lake, but no luck in visiting. The tour proceeds elsewhere. We pass the border into Switzerland without any passport control. Immediately after the border gate, we pull over and stop to greet our Swiss contingent of four more Falcone to join us.
Roberto Rossi (Zürich) is a 100% genuine enthusiast.
We climb slowly to the top of Monte Bre for a picnic lunch and an overview of Lugano.
Gordon de la Mare (Winchester, UK) and Larry Loyd (Las Vegas, NV) treat themselves to a little gelato atop Monte Bre.
Later in the day we will pass back into Italy without even slowing down at the border. Europe is really getting quite lax about these things. Remember, Switzerland is NOT in the European Union. During the day we have two incidents of clutch throwout bearing failures. Five minutes to fix on a Falcone. We arrive at our hotel and unload all the luggage into the parking lot so we can move our van. An elderly visitor drives in and proceeds to drive right over Gordon's luggage. Miraculously, the variety of electronic devices packed in his luggage all manage to survive without any crushing damage. The luggage duffel doesn't look so good, but his dinner trousers sure are pressed!
An austere monastery perched on cliff side.
I always like to learn new language tidbits on my journeys. "Make into the Center .....It's EASY!!" A little public restroom hygiene lesson.
Monday, June 1
Marco Freddi awakens to a severe back spasm, so he is relegated to drive the van today. Roberto Rossi has snapped the mounting of his foot shift pedal. During lunch we manage to find someone local to weld it up for us. It is wet and misty for most of this day. Not heavy rain, but we're stuck in our waterproofs for the whole day. Just as wet inside as out. We stop below Val d'Aosta to tour the historic Fort Bard. During our visit to the gift shop, an unmarked envelope containing 1,400 Euros of the club's tour spending cash has been inadvertently left behind. After a frantic search, someone in the gift shop finds the envelope, opens it, and turns it in to the manager. We're reunited with our funds. What a close call.
Tuesday, June 2
Today is a loop tour in the Italian Alps and the many small hillside communities.
We are guided by some local Guzzisti showing off their vintage mounts. I have to have a picture of this SuperAlce similar to my own.
We locate a nice brick piazza so that all can park together while we repair a brake spring issue. Never mind the no-parking signs and the location of the Police headquarters just across the street. This is Italy!
Note the creative front end support tool solution.
I've found a new pilot with budding enthusiasm for Guzzi!
At our picnic stop in Cogne, Larry spots a very tiny bird along the nearby creek. I was trained as a field naturalist and pretty much thought I knew everything about birds of the world. This thing is incredibly tiny. Smaller than any hummingbird I've ever seen. Only a few minutes to watch and then it is gone. After returning home to California, I search my references and the Internet. Yes, there are some very tiny hummingbirds in this world, but NOT IN ITALY. Turns out that this thing was a Hummingbird Hawk Moth. An actual insect, living by daylight, convergent evolution to mimic the shape and behaviors of a hummingbird. Click to see what tricked me: Hummingbird Hawk Moth. Most of the group returns to the hotel in Aosta, but several of us press on to visit Gran Paradiso National Park.
And here is our IBEX sighting.
Of course we have to have an afternoon espresso break. Now Elio discovers that he has a REAL flat and this one won't hold any air. But, the van with tools and supplies has returned to the hotel and it takes us quite some confusing time and numerous phone calls to get it back to fetch Elio's bike. The problem was that we only sort of knew where we were. This is 'hillbilly' rural Italy. This road has a number and a name. Unfortunately no Italian map shows this number and none of the locals down in the valley towns have ever heard of the hillside road we are on. While we are waiting at this little roadside stop, I notice loaves of bread hanging in the garage at the cafe. Curious, I ask the local merchant about them. How old is this bread? How many days ago did you bake it? Quanti giorni fa? This is Pane Nero or Black Bread, locally typical of the Italian Alps. This is what Heidi would have eaten. "We baked it last October. !!!!!" The local hill culture apparently has this tradition of baking bread and storing the final product rather than storing grain for sequential baking throughout the year. My curiosity is rewarded by the donation of half a loaf. Quite tasty, if a bit rough in texture. It is normally diced and added to stews and soups as a thickener. Note something you would slice for a prosciutto sandwich. I stuff the loaf into my riding suit and gnaw on it like jerky over the next several days. It gradually gets a bit softer from the internal humidity!
Pane Nero in storage.
And my gift sample. Angelo Pfyffer working hard to communicate our remote position.
Wednesday, June 3
Today it will rain almost the entire day as we proceed to Susa. Last night, one rider changed a worn front tire. But the bead has not seated properly and as soon as we start out, this one is going 'boing – boing' down the road like a pogo stick. We stop at a local tire shop and pump 8atm or 112psi before the bead finally moves into position. I am busy looking for something to hide behind as the pressure rises.
Thursday, June 4
Again rain most of the day. Our main emphasis is to visit the Fortress at Fenestrelle. This is an amazing, 19th century structure which was intended to protect against invasions from France. It rivals the construction scope of the Great Wall of China but on a smaller scale. Fortress at Fenestrelle If you play around with Google Earth, you can find it here: 45° 1.951'N by 7° 3.876'E. Very impressive and quite in danger of degradation by neglect. It was difficult for us to find this historical structure. We stopped in one small town to ask directions from a pedestrian. As we left, this person whipped out a cell phone and called a buddy of his who was a Guzzi vintage collector. What luck! The collector showed up at the fortress and invited us all back to his house for lunch. Can you imagine the phone call? "Dear, I just invited 25 old, wet moto riders to our house." What a treat. Picnic tables all set in his garage. Copious amounts of private wine and local cheese to go with our regular picnic fare. After the lunch, we walk a few hundred meters to visit his shop and private collection. Perhaps 75 bikes, mostly very small old Guzzi. And the walls are lined with posters, trinkets, memorabilia, etc.
In addition, this guy happens to be a lover and restorer of early version Toyota Land Cruiser.
He has a dozen or more of those as well. Apparently quite famous in the Italian off roading community. Some of his are exceptionally rare early versions. He's had visitors all the way from the Japanese factory to see his collection. Remember, we stumbled into this guy by accident. Only because we stopped for directions and our pedestrian guide called him after we had passed through. He's currently working on a detailed and complete restoration of a mid-30's Guzzi MotoCarro farm truck.
Our gracious, passionate host and his Moto Carro work.
You've heard that our beloved Guzzi have an 'agricultural' heritage. We stumbled on this garden tiller drive wheel.
After the private tour, we return to his garage for more wine and a very special treat. He cracks out a bottle of home-made Genepi. See here: Local Genepi This stuff is the essence extracted from some endangered alpine flowers (endangered probably because the locals all pick them to make this stuff.) It is FAR more potent than anything I have ever put in my mouth. It can NOT be tasted straight. One soaks it into a sugar cube and then sucks on the sugar cube. INTENSE! I wish I could think of someway to describe this too you. I guess you would have to imagine mixing vanilla extract and battery acid 50/50 and sipping on that. No, it was not a bad or bitter taste at all. Very sweet, but so incredibly powerful that it literally knocks your taste sensation out of whack. I had to try two to be certain.
We proceed on to our next destination at Barolo. I have a VERY bad time. We've been riding in the rain nearly constantly for two days. The cork discs in my rear suspension friction dampers have swollen and locked the suspension. I have no swingarm travel. My traction is dependent only on tire flex. On wet mountain roads this results in some very strange sliding and drifting dynamics. This is a borrowed, beautiful vintage bike. I am an emotional wreck by the time we get to the hotel. The proper cure is too loosen up the dampers and coat the discs with olive oil. Extra virgin preferred.
My loaner Falcone Sport from Lorenzo Bono.
Friday, June 5
Today we visit a very special private collection. Someone famous in the Italian candy industry has amassed an extended collection of vintage Guzzi racers. Everything is stored in his home along with his extensive wine collection. This is far superior to anything at the Guzzi factory museum. Gordon and I consult with Lorenzo Bono and we believe there are more than two million dollars worth of Guzzi inside this house, perhaps close to three million! You can see perhaps only one-forth of the collection here:
Heading back to the hotel, we can see some bad clouds on the horizon. Its a bet and a gamble. Can we get home before the rain hits? We lose. Only 500 meters from the hotel, the sky opens like vintage Noah. Sorry, close, but no cigar. We are thoroughly soaked upon arrival.
Saturday, June 6
The rain has been just too much. We all decide to abandon the last day of touring and just head to home. The Swiss depart north from this hotel while the rest of us head east back toward Vicenza. We did have one minor incident as we entered a roundabout. The road was wet and there were fresh roadway paint arrow markings. Not a good combination on a curve. No serious damage other than a few scrapes and minor bending. We hit another Noah-esque downpour as we skirted Verona but finally all made it safe and dry to home. The tour is complete.
Sunday, June 7
Relaxing and detoxing from the tour. We join Mario Silvestri in Malo for the best dinner of my entire trip. A very superb pasta and frutti di mare. Mario is one of our more senior club members who was not able to participate on this tour. Mario has been kind to lend a Falcone to me on four previous tours.
Monday, June 8
I train back to Milan to stay with a friend. We had previously hosted him here in California. In Milan he is only a few short blocks from a metro station and I'll need that access for my departure.
Tuesday, June 9
Today I am alone for a walking tour of Milan. I'm just cruising the streets and watching people (mostly female people). The rain hits once again so I duck in to tour the historic central castle. That is a nice treat I had not planned on.
Wednesday, June 10
My departure is very early in the morning. I have arranged this stay in Milan in order to get the first train back to the airport. Now the real fun begins. Those of you who have been reading my previous European tour reports will know that the US-TSA has a little issue with me. Seems that me and some famous terror bomber share the same name. Although he's safely in jail, they can't seem to keep us organized and separated. As I check in at my airline counter, the computer makes a distinct audible beep which did not occur with the passengers in line in front of me. I know exactly what this is going to mean. The nice lady behind the counter explains that I shouldn't worry, it is only some problem with their computer. Sure! I listen to her on the telephone with security as she is describing height, weight, age, eyes, etc. while constantly glancing back at me. Little does she realize that my Italian is quite adequate to fully understand this whole thing. Finally I am approved and allowed to enter the terminal. Stupid TSA IDIOTS! This crap happens all the time to me and it is getting quite old.
Next year, early June 2009, our tour will again depart Vicenza, but go north and east around the Adriatic to visit Trieste, Slovenia, Croatia, and Montenegro. Meanwhile, the economy is so bad that I will have to delay my decision and seriously consider declining this invitation.
Patrick Hayes
Fremont CA
Moto Guzzi Classics, Schio, VI, Italy