MOTO GUZZI CLASSICS
2016
NORMANDY & BRITTANY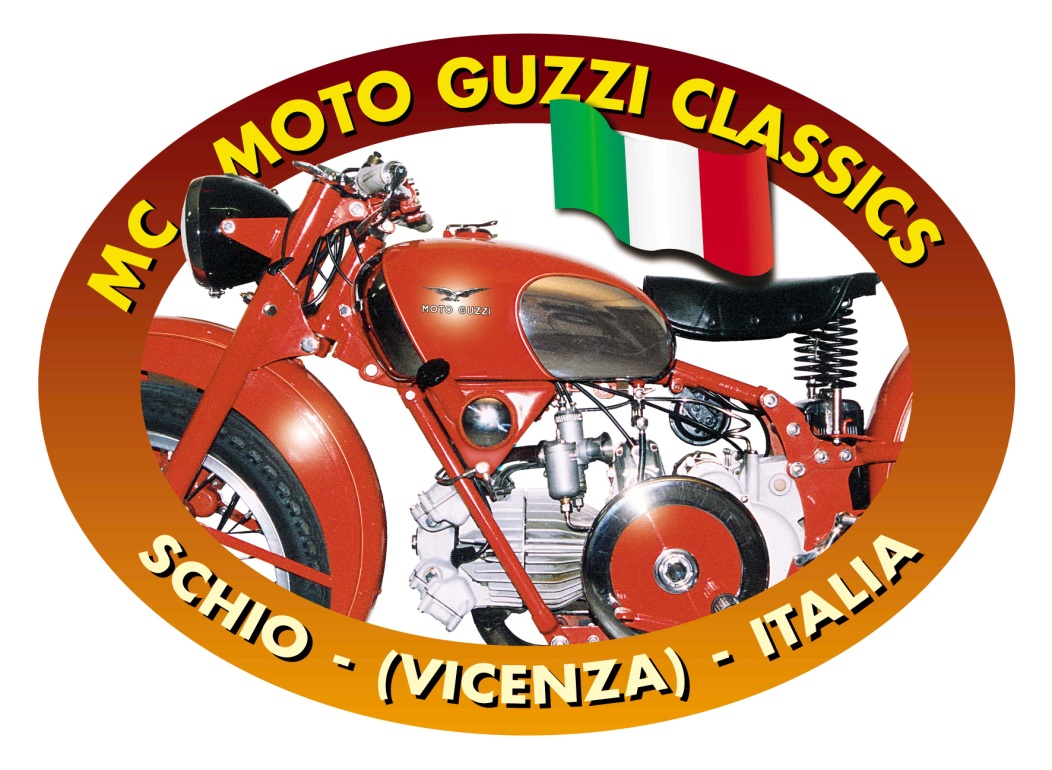 We toured the French coastal regions of Normandy and Brittany. A fair bit of rain but no serious torrents. I started my tour in England to join Gordon de la Mare at his home. Gordon has generously loaned his second Falcone for me to ride on this annual tour. We are transporting two by van and ferry to join the other Club members along the River Seine.
SCENIC VIEWS
These regions are both very beautiful and well kept. Even seventy years after WWII, there is still a very obvious public gratitude for the British, Canadian, and American soldiers who sacrificed for the liberation of France. Before each day's ride, our local host Daniel Nollan of Savane Aventure goes over the reconnaissance route mapping with Club President Yvan and van driver Lamberto.
We visited the wonderful Manoir Auto and Moto Museum in Loheac.
Our Club seems to have an uncanny propensity for stumbling upon wedding ceremonies. We did so in Puglia and again in Portugal and now here in Normandy. The brilliant red motorbikes make for wonderful photos and lifelong memories for the blissful, innocent couple. We invariably manage to smear black chain grease onto the virginal white wedding dresses.
It once was a warfare battlefront. Now a luxury golf course in Etretat.
Crossing the Seine by ferry.
Our quaint country lodging near Mont St. Michele.
Low tide walkers. You get a sense of how difficult it would be to coordinate a coastal invasion if you didn't get the tide and weather exactly correct.
The Tour de France bicycle race would be coming through here in a week or so. Everyone decorates if you are along the planned racing route.
Gordon de la Mare, originally of Wales, can trace his ethnic heritage back a thousand years or so into this region. At one time there was a tiny independent kingdom of Sainte Opportune la Mare from which Gordon derives his surname. The locals were victims of religious persecution so they all picked up and moved to the British Isles. We rode through the town and its suburbs. Lovely territory. That 'lake' in the background is the 'Mare' source for the heritage name.
The more rocky coast of Brittany.
Lobby wall art in one of our high class hotels.
HISTORY
We came upon a piece of neolithic history of which I was totally unaware. The village of Carnac in Brittany has field after field of huge, granite, standing stone. While the first appear to be a cemetery alignment, there seems little evidence that anyone was ever buried there. This was a massive human undertaking. No recorded history of why? These rows of stones go on for field after field. Do some Internet research for Carnac Stones to see some aerial views. This is all from before and during the stone age Celtic period of StoneHenge in England and NewGrange in Ireland.
Touring Normandy and Brittany one is more likely to see remnants of WWII. Here the famous Pegasus Bridge captured and held by the British. If the Germans had blown the bridge there would be no mechanized way to pursue them.
There are some preservations of the War even in urban centers.
We had a poignant connection from our Club to the events of D-Day. Mike Peavey's father was a glider pilot who delivered soldiers and a jeep behind the German coastal defenses on the night before the D-Day invasion. Mike and I visited the Airborne Museum in Sainte Mere Eglise which highlighted the glider involvement in the invasion.
Mike preparing his uniform. This American Flag was taken from his father's invasion uniform. Mike's father survived the invasion but, sadly, never returned to France. Mike is standing in front of the field where his father had safely landed his glider and precious cargo in the dark.
Mike in front of a preserved glider identical to that flown by his father.
The night before D-Day was NOT a simple diversion. A great many soldiers were dropped in behind the coastal defenses so as to attack them from the back side. It was all done in the dark and obvious confusion reigned. Here is an old aerial photo of a few days after showing the number and concentration of glider landings.
In the darkness and haste, many of the glider landings struck buildings, cattle, impromptu defenses, each other. No chance to 'go around' and try again. Some heroes never made it to the war.
Sainte Mere Eglise is noted for one famous invasion incident. A paratrooper got hooked onto the steeple of the local church. German soldiers were constantly walking around below and he dare not move. Eventually he was discovered, cut down, and imprisoned. He survived the war and returned here later during peacetime. The town continues to dangle a mannequin in his honor.
The American cemetery at Omaha Beach, Normandy. Once you turn off the main road, there is not a blade of grass out of position! Spectacular and emotional.
FOODS
If the weather is fine, we organize a simple roadside picnic lunch. Simple if you include our generator, meat slicer, and espresso machine. Otherwise restaurant lunches would alternate between "Moules-Frites" (mussels and fries) or filled crepes.
BREAKDOWNS
Alas, always some little problems on each tour. Here, a flat tire. The only rain shelter we could find was the porch of the ticket office.
Passing through one small village, I needed to downshift and the entire shifting lever bracketry snapped off. Uh,Oh, I'm down for the count. How lucky can one be to discover that 50 meters away lives a young lad who likes to build racing motorbikes and has a stick welder. We were back on the road in short order.
One of his crazy, custom welded creations was a Racing Shopping Cart powered by a Solex front wheel bicycle motor.
Our final night in France we parked the motorbikes and took a van ride into Rouen for dinner. After dark we joined the crowd to view an elaborate laser light show projected onto the face of the Rouen Cathedral. Click to enjoy.
Patrick Hayes
Fremont CA