MOTO GUZZI CLASSICS
1995
MARCHE-UMBRIA-TOSCANA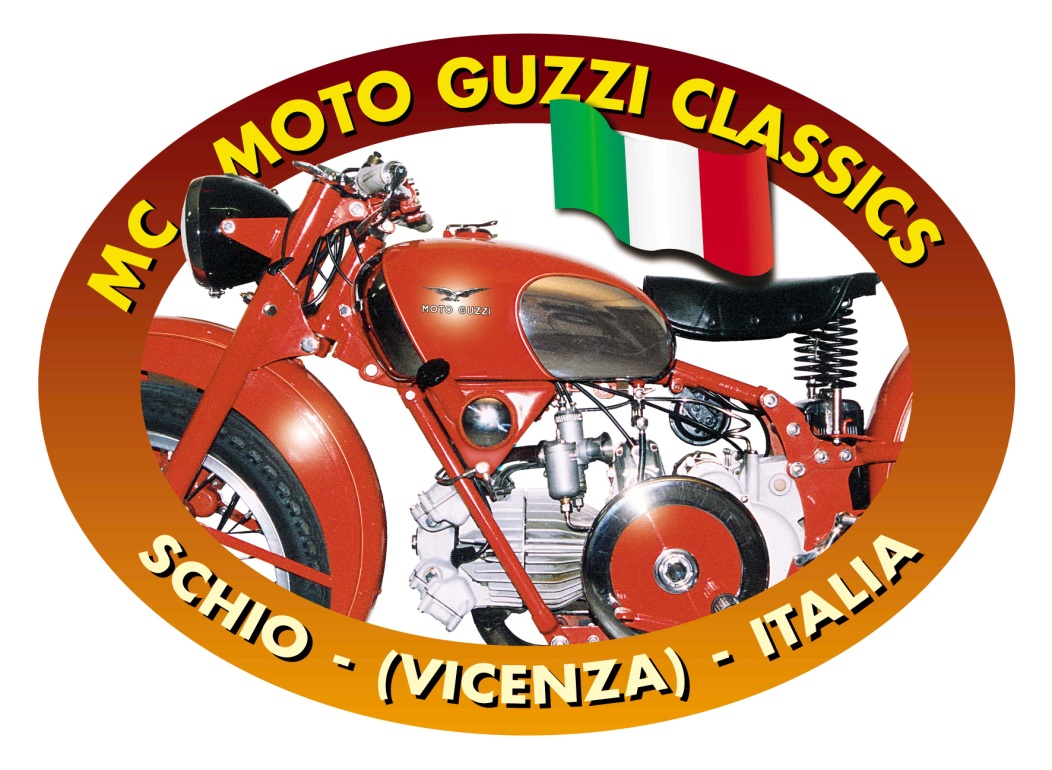 This is our first ever trip to Italy. We don't speak the language at all and we are fully dependent on our hosts for everything. The tour is to include the regions of Marche, Umbria, and Toscana; essentially a belt line horizontally across the country. I have been provided with a black Guzzi V65C from Ernesto Fancon. Regina has been provided with a red Guzzi V65SP from GianLorenzo Bono. We started out by all meeting together in the parking lot of the church on Monte Berico overlooking the major city of Vicenza. Regina and I are a bit stuck without the language. But, one of the people joining our tour is Paul Jackson, an Englishman from Milano. He becomes our translator and a subsequent lifelong friend. We have shared tours and each others homes for many years since.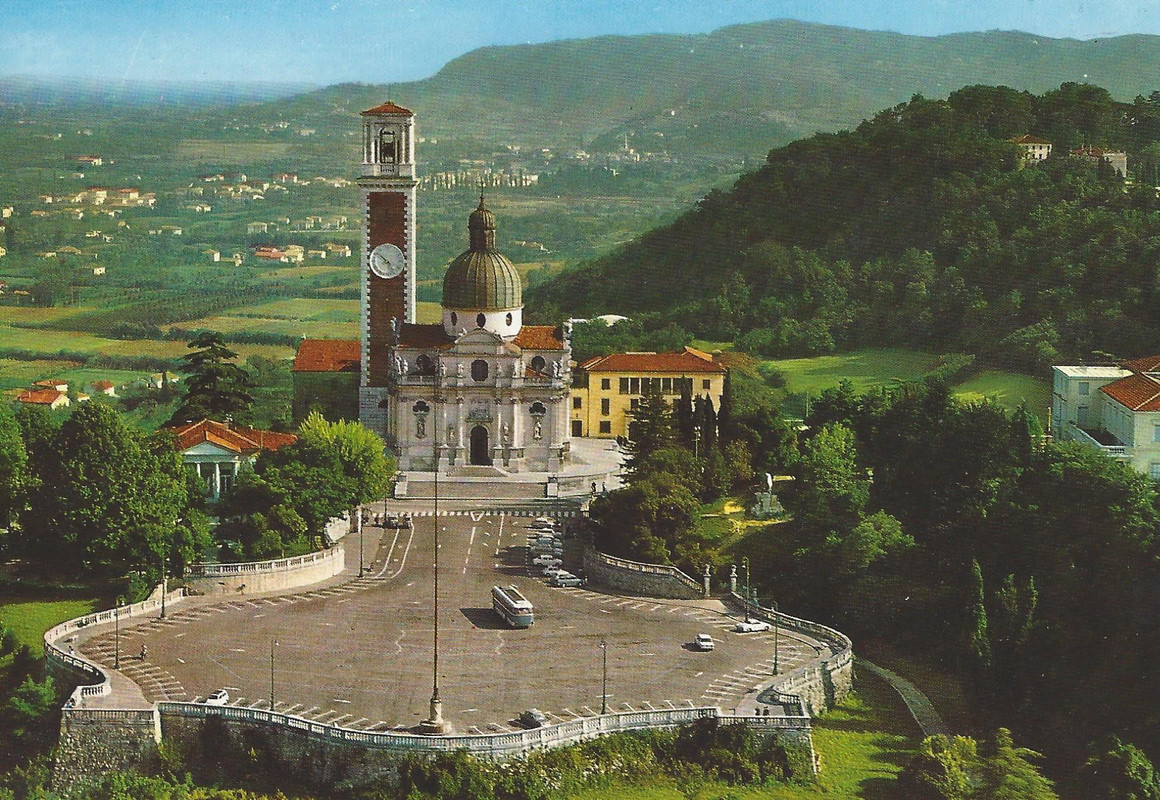 Traveling south along the east coast we lodged in Rimini and visited the National Motorcycle Museum.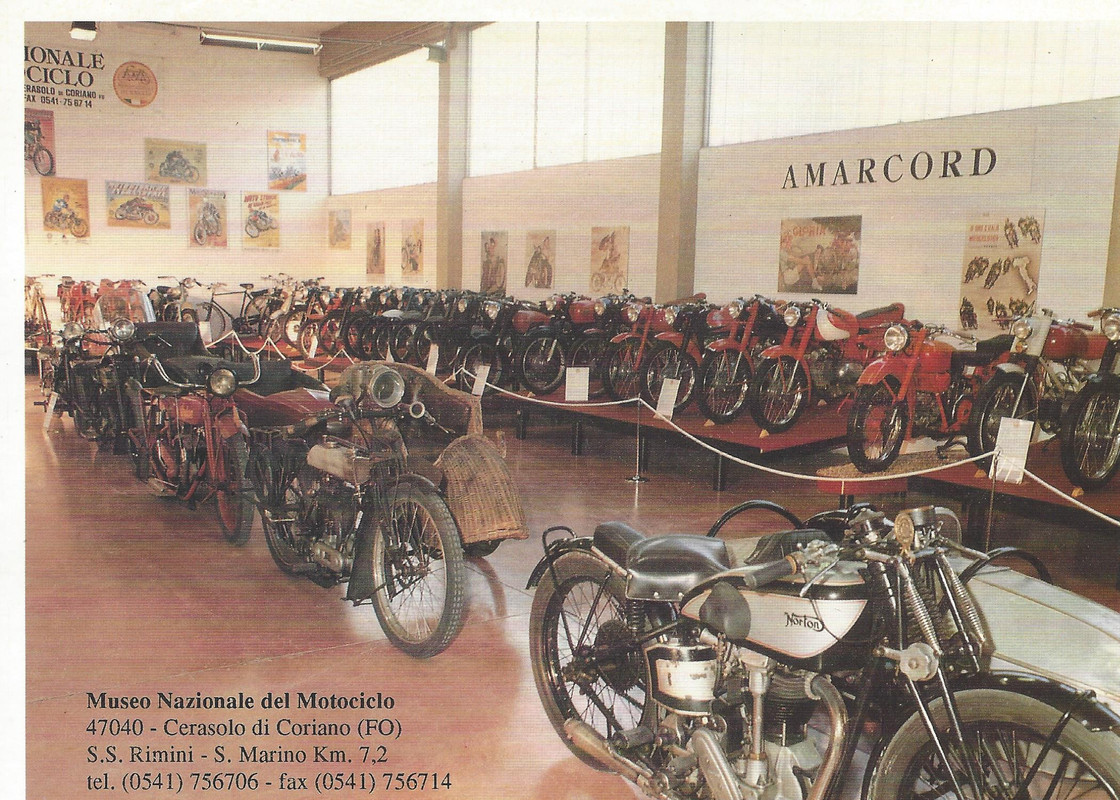 We visited a shoe factory in the Marche. One of our members distributes this custom line of high fashion shoes.
Our first view of Lago Transimeno. We would be focusing around this area for the next week.
For the main part of our tour we took over an agriturismo near Lago Trasimeno with several day trips out and back.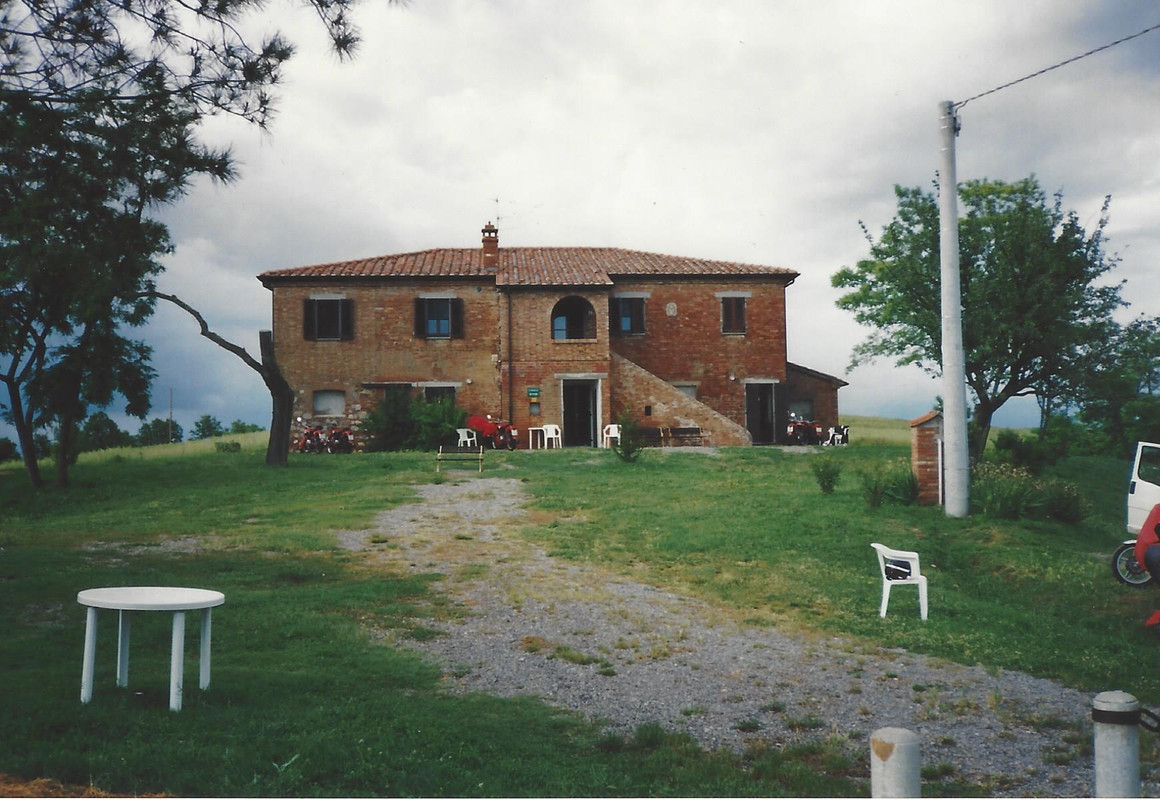 When we arrived at this lodging, I got brave and took off down the road by myself. There were two other wives along on this trip other than Regina. I had seen a florist shop on the way up to the agriturismo. Since we would be staying here for several nights, I returned alone to the shop to buy some flowers for the three ladies. Strange looks from the vendor when I asked for flowers for my "three wives". I warned you I could not speak the language.
Daily tours typically include a picnic lunch at some roadside stop. Angelo Penna (now deceased) provides and prepares our prosciutto. Angelo runs a farm and winery dealing with 4,000 piglets per year gone to prosciutto. We honor their investment in our tour!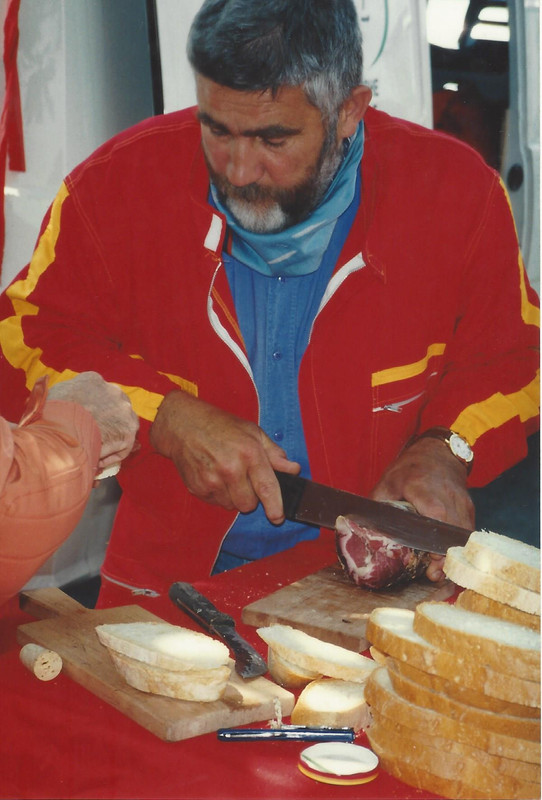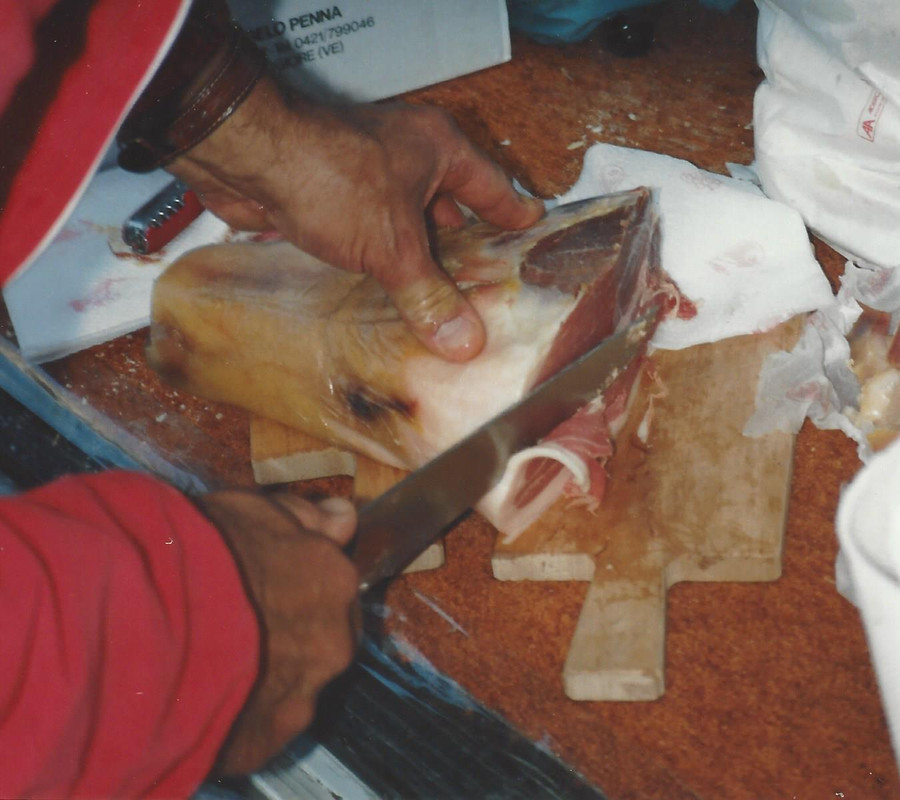 A visit to Asisi and the church of St. Francis. The interior frescoes are really stupendous. Or rather, they were. A few years later a major earthquake hit this region and much of the ceiling collapsed down into the church killing several engineers who were inspecting for damage. All reconstructed and restored now.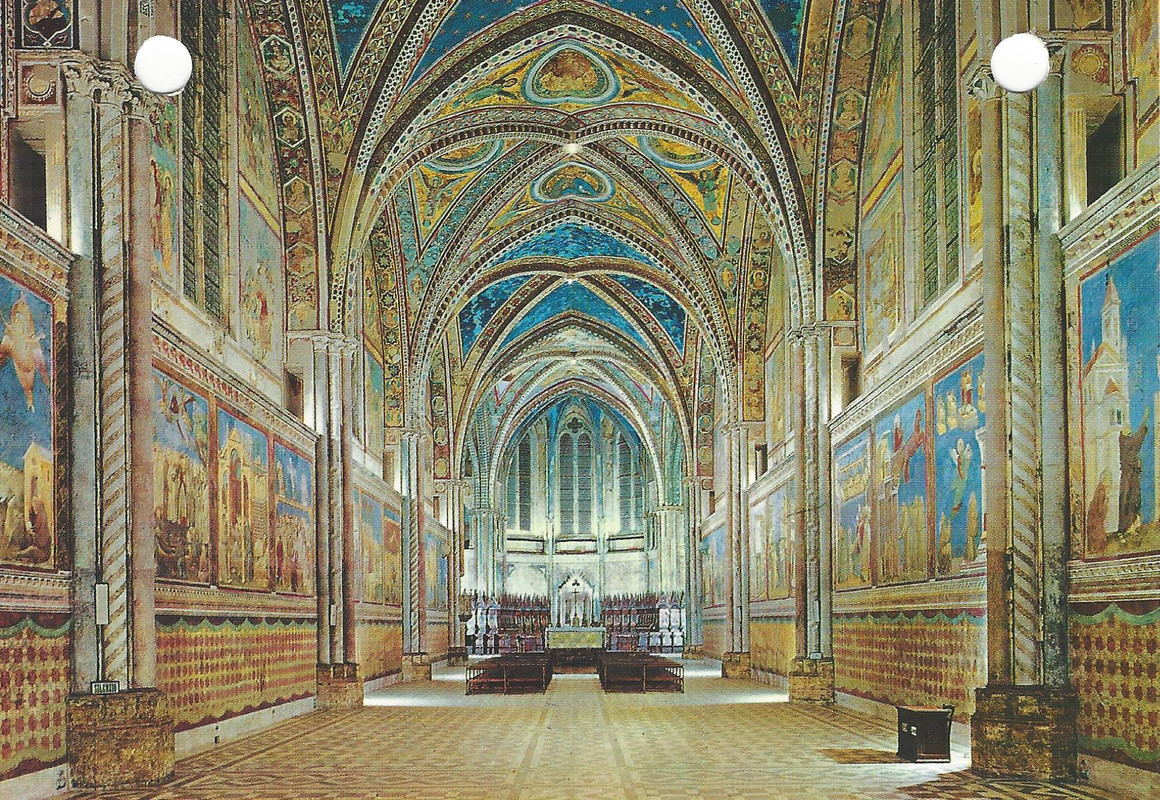 A visit to the ornate facade of the cathedral in Orvieto.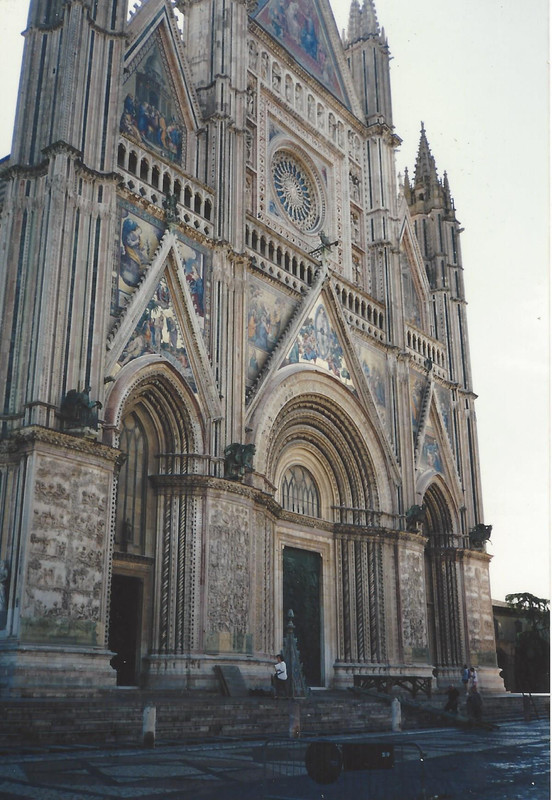 This is the first and only time I have ever seen a Guzzi 400-4 in the flesh. 400cc straight 4 cylinder. Parked curbside near the cathedral in Orvieto. It is basically a Binelli model re-badged for Guzzi during the period when Alejandro DeTomaso owned both companies.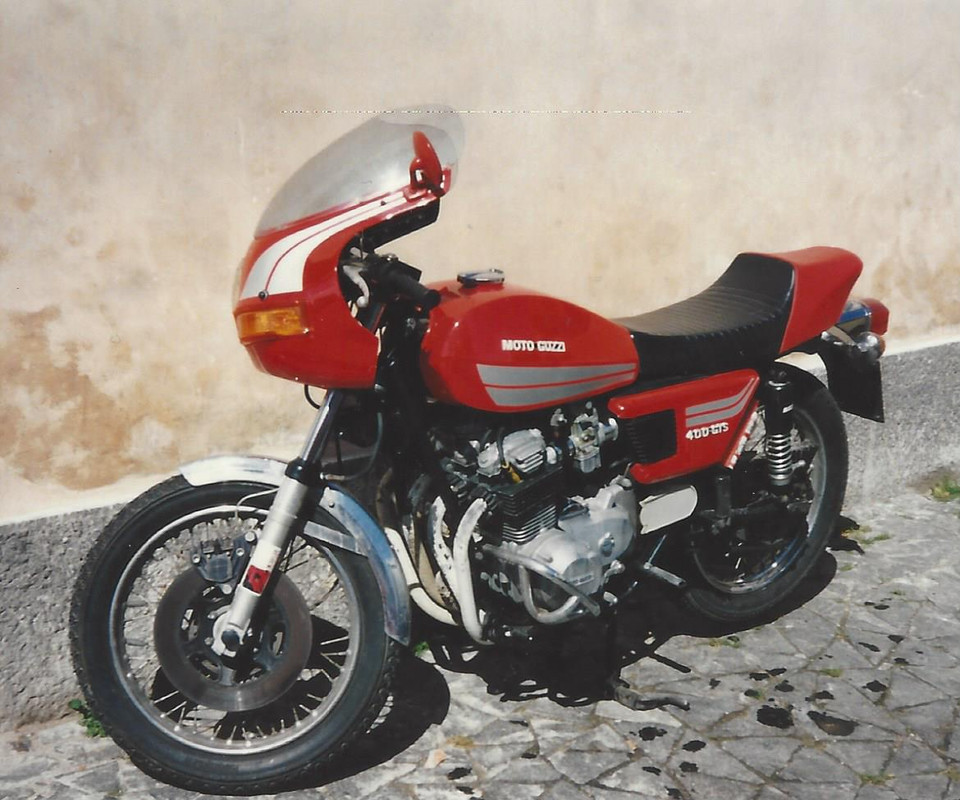 Also found a city police bike Guzzi along the way.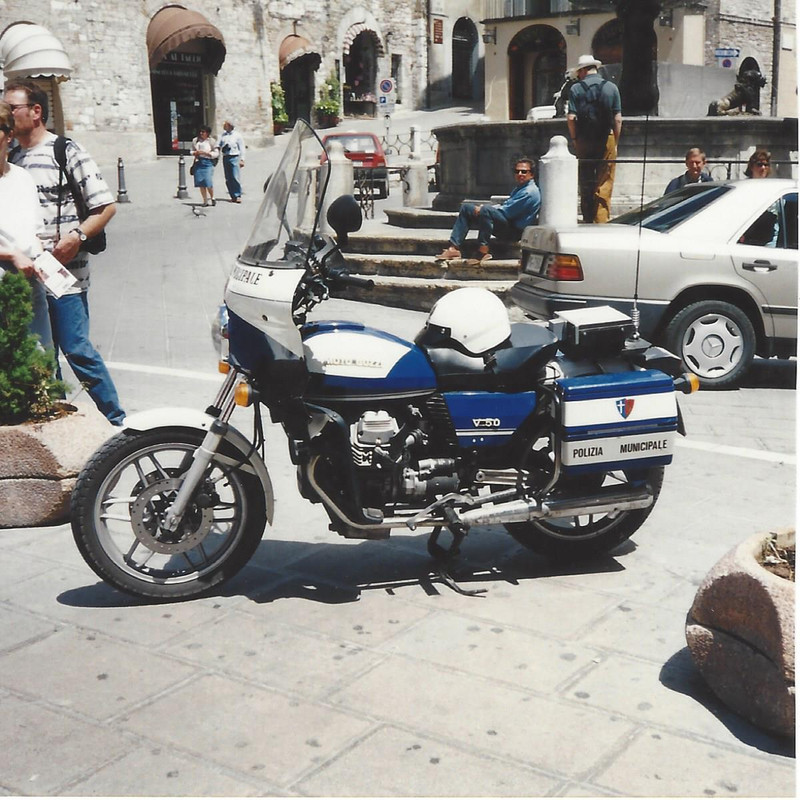 Enough on churches. Now visiting Chianti wine production.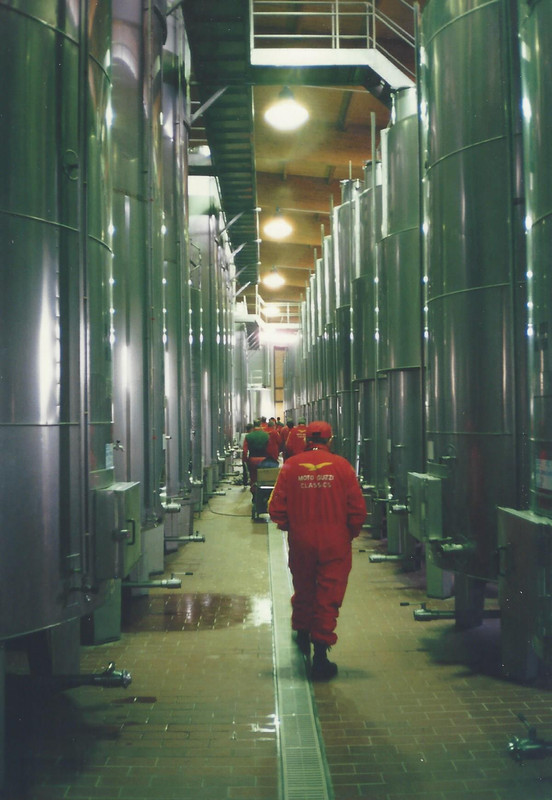 Etruscan tombs from the ancient period before the Romans and latins.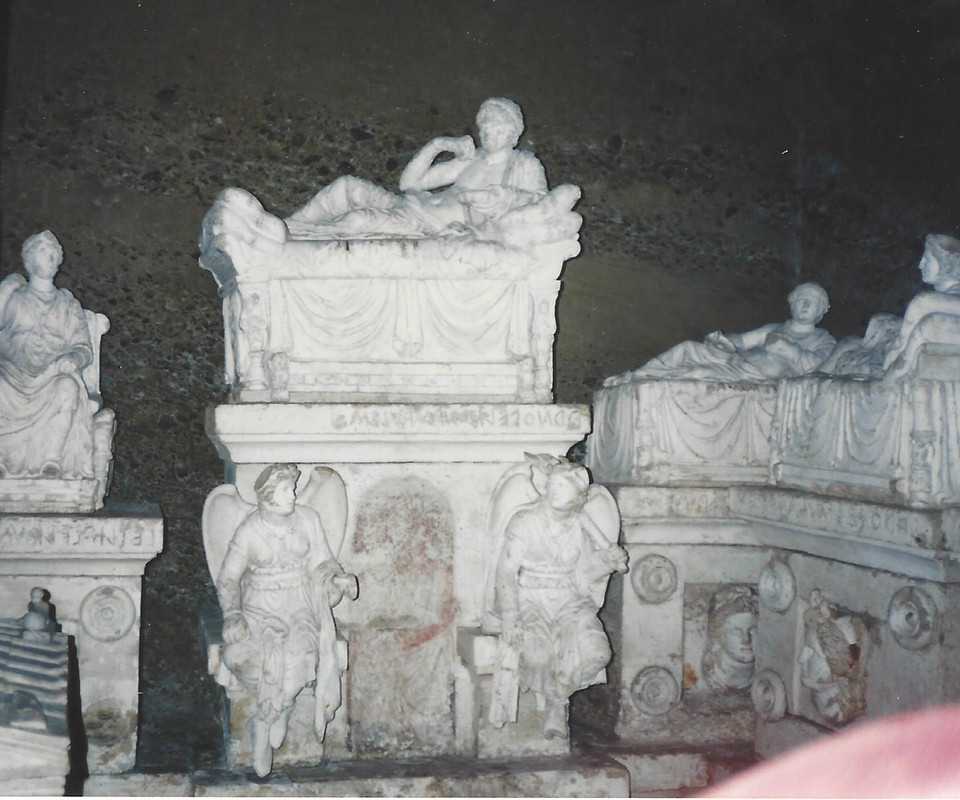 The little walled hill town of Pienza provided a special reserved parking area for our Moto Guzzis. Note the little yellow tag on the bottom of the "No Parking" symbol.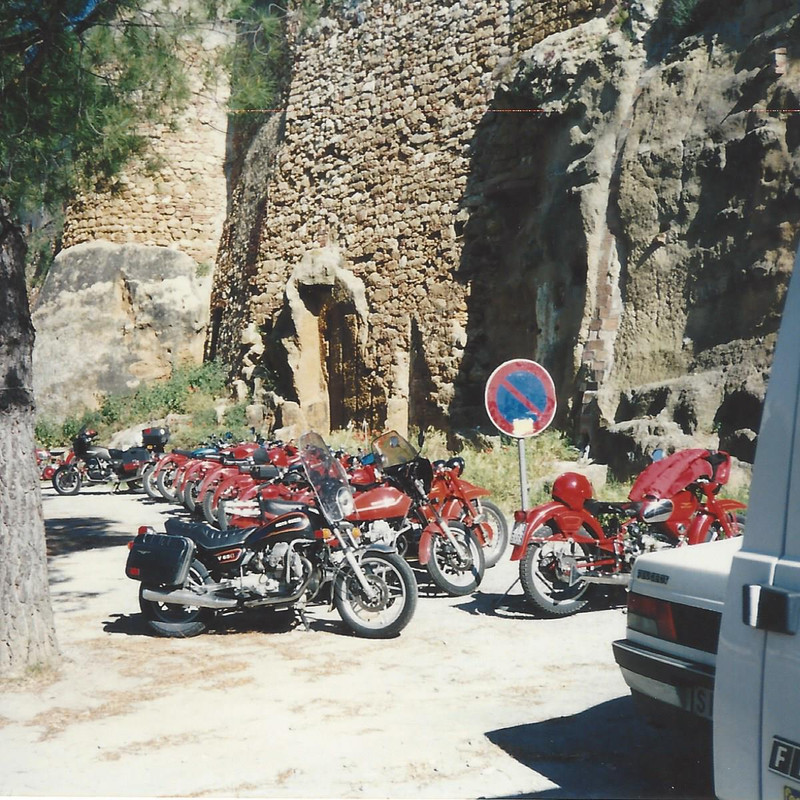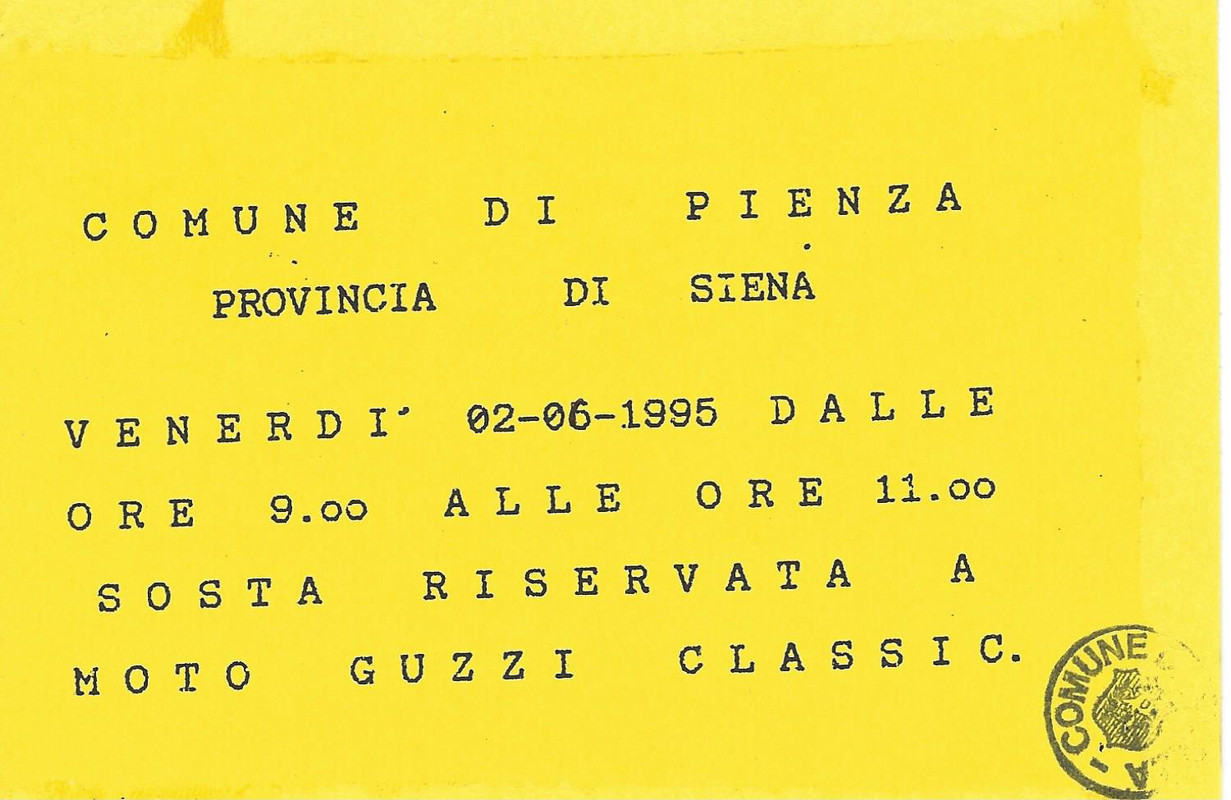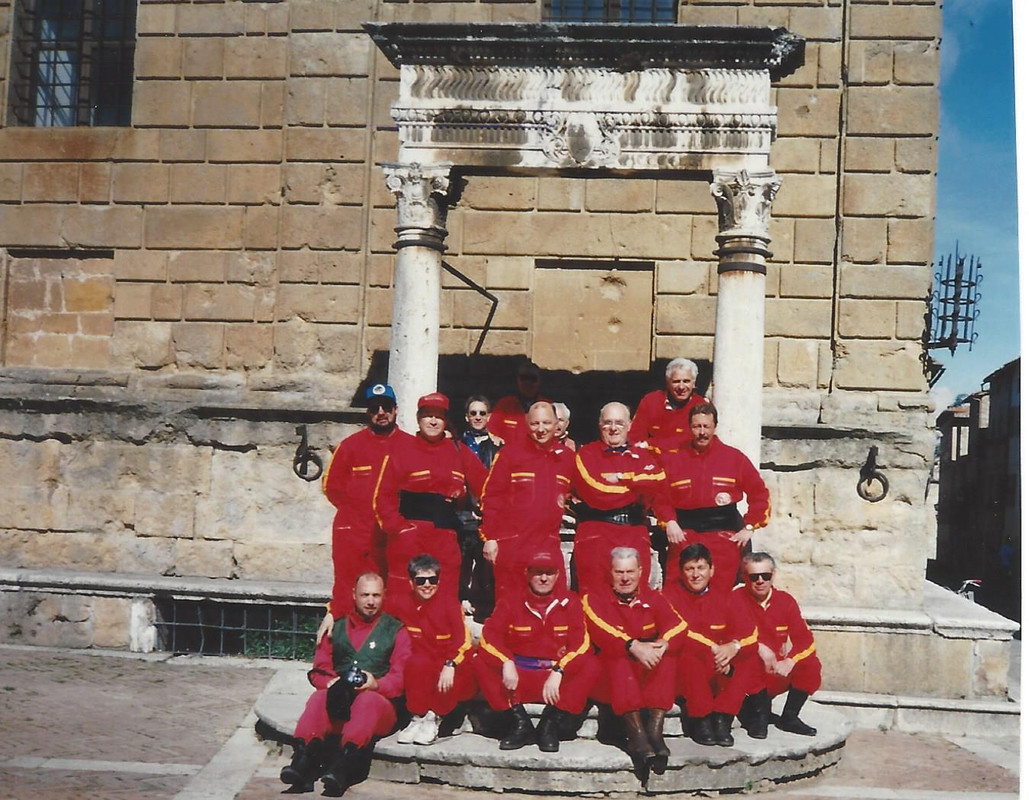 A little stop at the hill town of Monteriggioni. And maybe a blessing?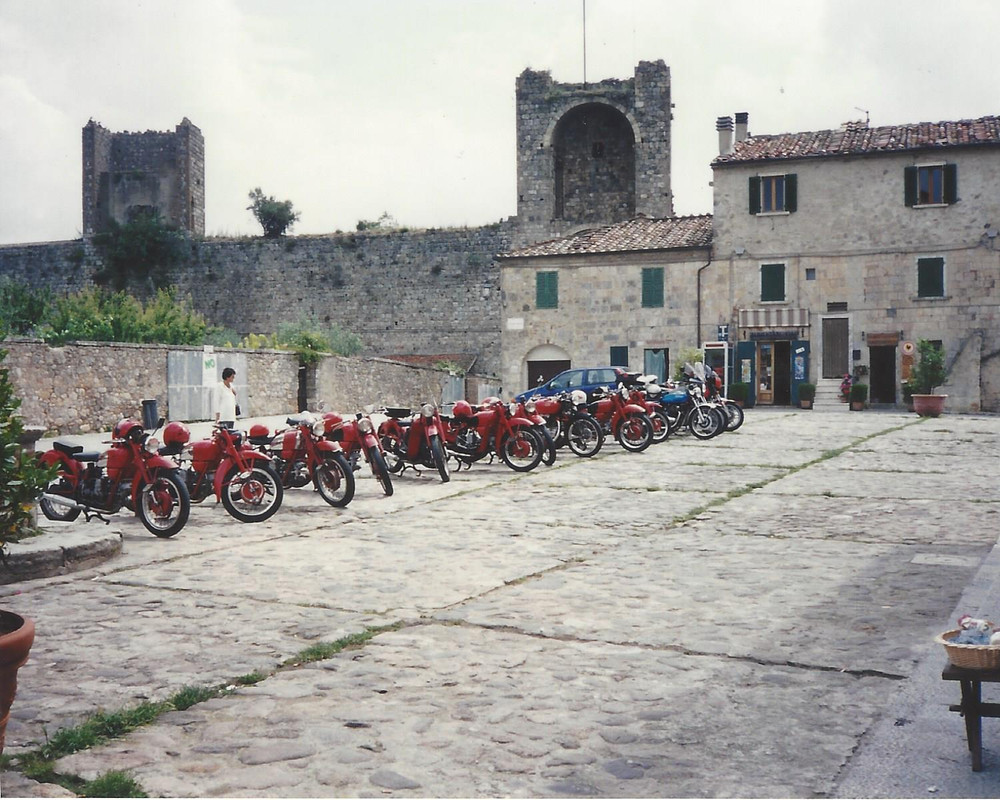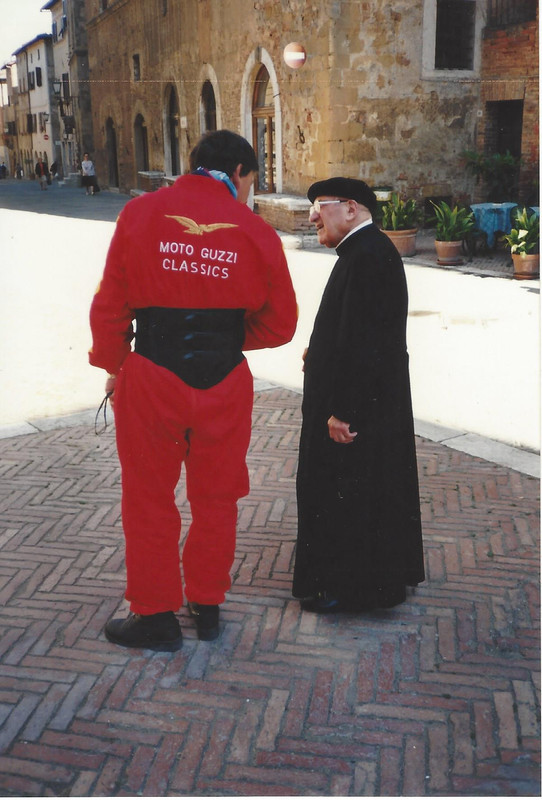 This is a common view that we see. New to Italy and new to the club, we prefer to ride in the rear. Such a pretty red line down the road.
After the tour was concluded, one of the club members assisted us with a visit to the ancestral farm of Regina's family. There had not been any contact from America to Italy for perhaps twenty-five years. We could not have managed without a translating assistant. This is the house where Regina's grandfather was born and several generations before him. We now maintain regular contact with the family and try to make a direct visit before or after each of our tours in Europe.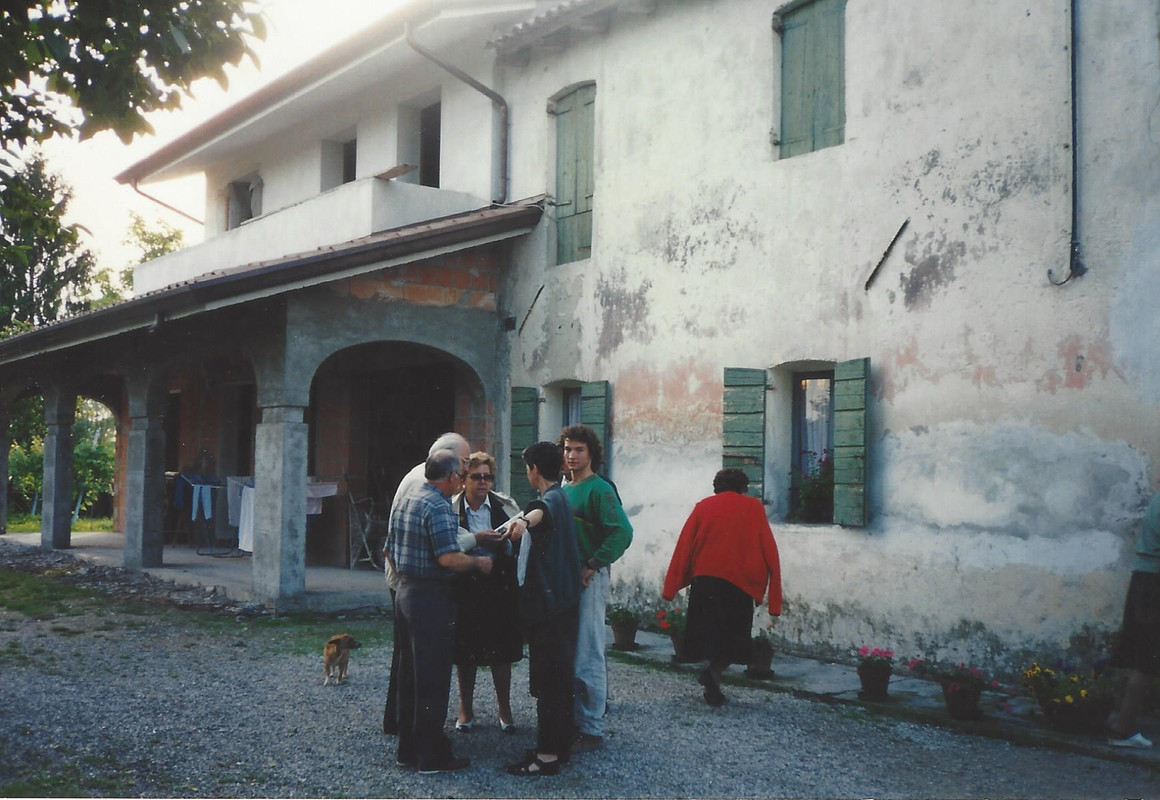 Patrick Hayes
Fremont CA