ISLE OF MAN
2007
CENTENARY TT RACING
Guzzi Falcone Tour
Regina and I belong to MOTO GUZZI CLASSICS, a vintage motorcycle club from the region near Vicenza, Italy.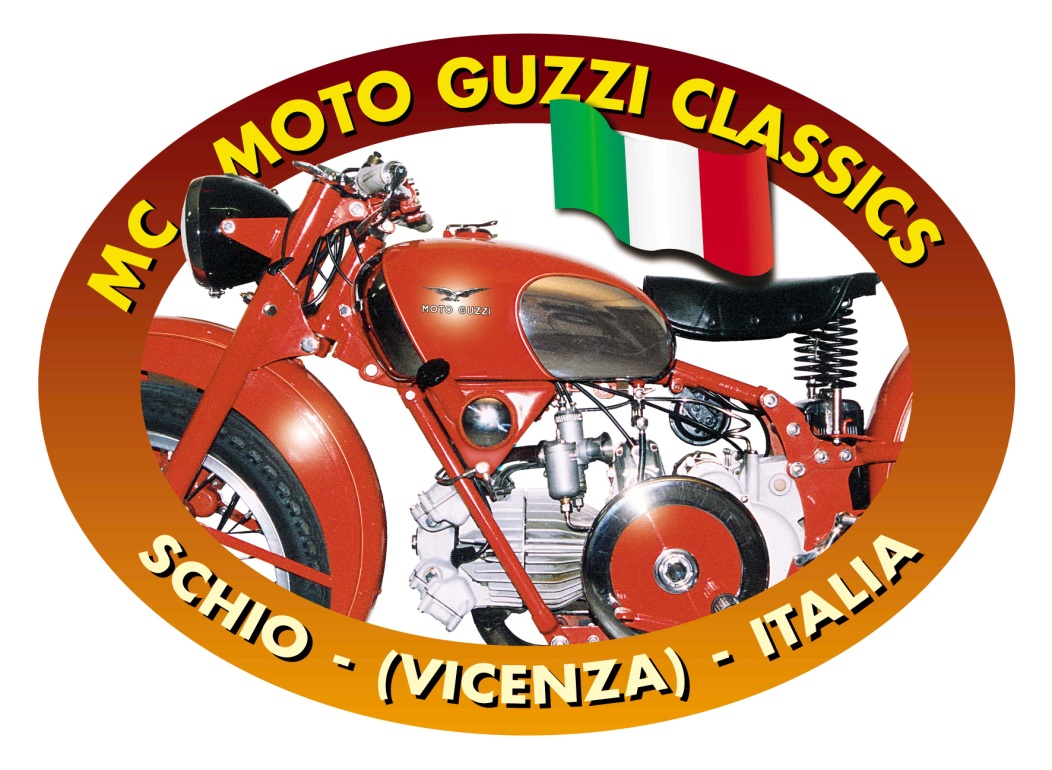 Each year we have an opportunity to tour with them and the club members are very kind and generous to loan us motorcycles as necessary. For 2007, the Club's annual tour was planned for participating at the Centenary TT Races on the Isle of Man and a secondary tour through my ancestral homeland of Ireland. What a thrill to ride such a spectacular location, on a vintage motorcycle, and participating with many other like-minded enthusiasts. Surely we are blessed with the fortune of this friendship.
The national symbol of the independent Isle of Man, the oldest, continuously-running democracy in the world.
Sunday, June 3
Departure is not as smooth as we had anticipated. For some confusing reason, we bought our tickets to Ireland at separate times. Although we will be flying together on Aer Lingus from Los Angeles, we have separate connector flights from San Francisco. Regina is flying on American and I am flying on United. Only 20 minutes apart in the air. However, American has made some major change in their itinerary. Regina's connecting flight is now scheduled to depart much later. Too late, in fact, to make the Los Angeles connection! Good thing I called in the morning to see how the schedules were going. We were able to get to SFO early enough to put her on an earlier American flight and reach Los Angeles with plenty of time for the connection.
However, I am a different story. As some of you may know, my name appears on the TSA 'no-fly' list. Google for Patrick Hayes and the IRA and you'll find out about this chap in England who went around blowing things up.
http://www.redaction.org/media/independent.html
He's currently in the middle of serving a 30 year sentence. HE may be incarcerated, but I always suffer a strange array of investigations and inspections whenever I fly. Sometimes it gets a bit dicey. Sometimes I even miss airplanes! Lucky me. Flying domestic from SFO to LAX was a breeze. However, when I transited to international at LAX, Aer Lingus put me through the ringer. I passed, but there is always this cloud of doubt when I enter an airport.
Monday, June 4
Arrival to Dublin is quite easy. The majority of our Italian companions will be arriving late tonight. The bus office is only open in the daytime hours and they sell discount bus tickets to downtown. So, we are charged with purchasing all of the bulk bus tickets in advance. When we get to downtown Dublin, we meet up with Gordon de la Mare, our Welsh member. (He gets all the kudos for organizing this year's tour.) We spend the afternoon together for a few pints and a stroll through a "Tall Ships" street fair along the River Liffey.
Late in the evening, I return to the airport to greet the Italians and distribute the bus tickets. Back to the hotel and a few more pints before we tuck in for the night.
Tuesday, June 5
Off to the freight cargo area to find our container and unload 16 premier quality Guzzi Falcone.
Everything has been safe in transit. One rolls out of the container with a flat tire. It has a nail in place that must have been picked up on the ride to the container port back in Italy. Our team mechanics make quick work of that. One other Falcone gets put back into the container. My good friend Mario Silvestri has become ill just prior to the trip and was forced to cancel out. His motorbike was already shipped and now it will sit alone in the container in Dublin while we tour. One of the bikes in the container is for me and Regina. Our dear friend Beppino Baudo has two of these Falcone and has shipped one along specifically for us to use. He also loaned a valuable modern motorbike to Regina several years ago. He has been very kind to us. Other than an eventual flat tire and a part that we broke during the tire repair, this bike proves to be FLAWLESS. Never skips a beat in two weeks. Always starts on the first kick. Manages to haul two robust people on some seriously rough roads at speed. I am eternally grateful to Beppino.
Everyone works in an efficient, team-like manner and we are ready to roll within two hours. Back to the hotel to put the bike in their garage and then we take a tram off to St. James Gate to tour the Guinness Brewery.
A few pints there, then an evening stroll through the Temple Bar district for dinner and a few more pints listening to traditional Irish music. (Do you see a recurrent theme arising here??) We gather late back at the hotel. We are NOT staying here for the night. We have to meet our ferry transport at 0300 tomorrow morning, so we skip a night's lodging and just hang around the hotel bar for hours.
Wednesday, June 6
In the wee hours, tragedy strikes. We're all suited up and off to the ferry terminal. Oops, two of the motorbikes have been chained together for security. The key is nowhere to be found. It is going to be a bit difficult to ride two antique motorbikes to the ferry terminal with only about 12" separating them. Fortunately, the chain has only been wrapped around the fender stay of one of the machines. A quick disassembly with our hand tools and the conjoined twins are now individuals once again. Quick everyone! We're now late and its off to the ferry. Little did we know the ferry would be two hours late and we'd just be standing around anyway.
We arrive to Douglas, Isle of Man on a brilliant morning.
The order of our challenge for the day is to find breakfast, then find an ATM for everyone to get some Manx cash, then find a supermarket so we can buy our daily lunch supplies, then off to our hotel at the Mount Murray Golf Resort south of Douglas. Early in the afternoon we ride over to the area of Union Mills to watch some practice runs on the closed road course. Some of this practice was sidecar outfits. Look at this wonderful picture I was able to capture. Note the sidecar outfit on a straight at perhaps 120mph or more. Note the nice lady in the doorway of her cottage across the street. Nice course location, eh?
As we turn about, note the 'protective padding' on the light poles and course marshal stand. What the heck is that stuff supposed to do at 125 mph?????
In the early evening we ride down to Quarter Bridge to meet up with about 150 motorbikes from the Vintage Motorcycle Club (VMC) and take a guided ride out to Kirk Michael for a tour of Tony East's museum and a catered dinner on his front lawn.
I took way too many pictures of antique motorcycles at this festivity. Here in particular is a trophy sculpture to be given away later in the week. This is a full sized motorbike carved and polished from granite.
Finally we ride back to the hotel and a few more pints before we get to bed. It has now been 48 hours since we were in a hotel bed. It has been a busy and hectic two days and we NEED this.
Thursday, June 7
We rise late this morning and have a leisurely breakfast. When everyone is ready, we ride up to Douglas to the Start/Finish line.
First we have to get interviewed by an Italian TV reporter. Yvan Pfyffer, our club Presidente provides information on the history and complex logistics of our grand annual tours.
And then we're off on another major tour ride with the VMC.
During a break, Maurizio Pfyffer, our tour treasurer, tends to the expense management. He keeps the treasury flowing smoothly.
Today's destination is a visit to "Government House", the home of the Lieutenant Governor, His Escellency Vice Admiral Sir Paul Haddacks and Lady Penny Haddacks. Along with one hundred other vintage motorbike riders, we are treated to lemonade and sandwiches on their back lawn. Awards, introductions, and presentations all around. Yvan has presented the Sir Haddacks with a framed history of our club tours. (Someone with a proper vintage motorbike actually managed to get some proper vintage grease on His Excellency's white coat!)
Back to the hotel for a little relaxation and then we're off to the Mason's Hall in Douglas for a very fine dinner with the Friends of the TT Riders Association. Three or four pints will suffice through dinner.
Friday, June 8
Today is THE big race day. The Senior TT. The premier class of racing for the fortnight of the festival. We venture off to the corner at Ballacraine to watch the racing. There is a crowd of perhaps 500 people gathered around this spectator area. At the IOM-TT, there are no 'casual' motorcyclists. The logistics of getting here are so onerous, that only the most serious and dedicated of enthusiasts even bother. Some take it even a step further.
One of the amazing things about the IOM-TT is the investment and participation from the resident local population. EVERYONE loves motorbikes and racing. We found this house that even has a Guzzi silhouette as a residence number plate.
When we were here previously in 1997, Regina and I paid five pounds to sit on a comfy lawn chair at a Senior Citizen Care Home just 500 meters short of the start/finish line. For this fee, we got chairs, access to the restrooms, and hand delivered tea and homemade cookies. When the racing occurred, another five or six very elderly people where wheeled out to the stone wall edge to watch the racing with us. Certainly not what we could expect to find back home.
People must park and walk quite some distance to get situated. Somehow, there is an area right up front at the corner where no one is parking. A nice local policeman is sending everyone down the road. When we arrive in 19 bright red vintage Falcone, we are ushered directly into this front space.
After visiting with the crowd and another round of TV interviews, we amble back down the road to our van for a typical tour luncheon. Angelo Penna is a wine maker and pig farmer. He always generously provides our tours with picnic lunch refreshment.
This is a common result of the typical lunch.
We are able to witness Ian McGuinness set a new lap record in excess of 130mph AVERAGE SPEED. It is quite unimaginable to understand how such a speed can be recorded on this open road course. Over 37 miles per lap with some 360+ curves per lap. I doubt that I could do this course and average 70mph. Alas, there is tragedy later in the day when one racer is killed and his motorbike takes out two spectators as well. Bad JuJu, but it is an inherent risk of racing on this scale. In the evening we visit the Douglas Promenade to watch the insanity of that street fair and have a few more pints.
Saturday, June9
Regina rides off for the day with another club member as they are all going on a major tour to the north tip of the island.
It is a gloriously blue sky day. Gordon and I remain behind to do some work on his Falcone and then we are off with the van to Castletown to participate in the Southern 100 Parade Races. Secretly hidden within the van is Gordon's pristine Guzzi Dondolino vintage racer.
He is very fortunate to have such a great mechanic along in full costume! Late in the afternoon the club returns to the south end of the island and joins up with us in the paddock area for the races.
Sunday, June 10
After packing ourselves out of the hotel we head to downtown Douglas to buy our daily picnic supplies. Just as we begin to suit up for departure, up walks Sonny Angel, well-known Guzzi enthusiast of San Diego.
We have no time to talk as we have an appointment to keep. What a shame to have to cut short such a chance encounter. He is high on our list for the next USA tour. Today we meet up with our old friend Alex Downie, a Minister in the Treasury Department. He himself is a vintage Guzzi rider. He was with us earlier in the week on his Sport 14,
but today he will ride along with us on his Falcone.
We ride off again to Quarter Bridge to meet the VMC and then take a tour through Tynwald and parts of the Mountain Course. In the interest of rider safety, the Island has taken the Mount Snaefell section of the course and made it ONE-WAY clockwise for the entire festival period. Slow riders stay in the left lane while 'sportier' types take over the right lane. It is a bit disconcerting to ride two-up on a vintage motorbike at perhaps 55mph and have someone pass you on your right elbow, just inches away at more than twice your speed! One mistake and you're a grease spot.
During the ride we are often passing other vintage motorbikes. During one hill section, we came up against a 1914 Triumph.
The owner was riding in shorts. This motorbike has a 500 single engine with a huge external belt to drive the rear wheel. The belt runs continuously with the motor so that the clutch and gearshift are whirling within the hub of the huge rear wheel. There is no front brake. The rear brake is an external shoe affair. I tried three times to pass this guy. He was flogging this old motorbike like crazy. I would gradually gain on him and then he would slam the door as we reached a curve. Eventually I found a long enough straight to get past him. What a HOOT! Complimenti, signore! I can't believe he could ride that thing that hard. When we met again at the finish, he assured me that one had to be quite daft to ride such a thing in the first place.
The end of the day found us relaxing in a gorgeous hidden Douglas park for a picnic dinner. Gordon has been complaining about his Falcone clutch for days. The mechanics grow tired of listening to his whining and before he can bat an eye they have his motorbike half disassembled. Yikes! He has spent months rebuilding this for the tour and they have undone his work in 15 minutes!
Some cleaning and a few adjustments and it goes back together. But, we have now discovered something serious internally. The cause of Gordon's woes can not be fixed along the road. We'll just ride and hope. This will haunt Gordon for the remaining days. But his motorbike will finish the tour intact and go back to Italy in the container for a righteous cure.
After dark, we cruise the promenade and the ferry terminal until the wee hours awaiting our ferry ride off the island. Another night with no hotel.
Monday, June 11
We arrive Larne, Ireland for a counterclockwise tour. The north coast is quite spectacular in the early morning. The ocean is duck-pond-calm and the sky is glorious once again.
At noon we visit the Bushmills Distillery to sample some of their finer Irish whiskey. Just a sample mind you. For medicinal purposes.
The afternoon finds us at the Giant's Causeway, a remarkable natural stone formation of crystallized lava columns.
A fine picnic lunch and some new friends. I always carry a stack of these famous post cards from the Guzzi club effort at the Bonneville Salt Flats. I give them out to little children as an ice breaker and a good will gesture as we travel along.
The long hike down to the Causeway in bright son with no hotel the night prior has really brought Regina to the end of her energy.
Tuesday, June 12
Today we pass from Northern Ireland to the Republic. Nice to see that the border is essentially non-existent and The Troubles seemingly behind us. We soon confront our first bout of serious downpour rain. Not much fun on the narrow back roads of rural Ireland. Although we will see more rain off and on for the week, this one hour will be the worst of it. Unfortunately, I arrive to Galway with a seriously bad head cold and headaches. Sort of ruins the joyous touring for a day or two. It is my great fortune to have Regina along on the tour. She is so kind and compassionate when I am ill.
Wednesday, June 13
Today gets to be a series of wild adventures. After breakfast everyone suits up in rain gear for a ride off to the Connemara region. As I bounce my bike off its center stand in the parking garage, I note that it is rather difficult to roll. Flat as a pancake! Picked up a nail somewhere yesterday. Too late! Everyone is ready, I can't hold them all up for this repair. I'm still sick anyway, so we bag out for the day and send everyone else along. Regina and I spend the day walking Galway and touring some local cultural spots. Not too sick for a pint! Late in the afternoon back at the hotel I meet up with Roberto Rossi, Zurich Guzzi dealer. His bike has broken down out in the boondocks and he has ridden back with Claude, another Swiss rider to fetch the van. They have the key, but they have no idea where the van is parked! Fortunately I have returned to the hotel only 15 minutes after them and I know where the van is. So, off we go to fetch the broken bike. I get to see Connemara after all!
Back at the garage, we start the investigation. But wait, we have a problem. Yesterday afternoon, there were several people who wanted to make small adjustments and repairs. When they were finished, they left the toolbox hidden among the many parked motos. This morning when they went off for the day ride, they left the toolbox sitting exposed in the garage and now it is GONE! Fortunately Gordon has a second, smaller toolkit and we work on the broken motorbikes with those tools. In repairing my flat tire, we manage to break a critical rear brake cam part. Down for the count! When we disassemble Rossi's clutch we find the most bizarre failure.
None of us have ever seen this before. There is a single tooth on the transmission output shaft to locate the clutch parts. The tooth is sheared off. Two bikes down now.
BUT WAIT! While we are working, Gordon has gone off with a flashlight and is spying into every car in the four story garage. We hear shouting and run to his support. He has found our club toolbox, barely visible, under a tarp in the back of a hatchback car on the top floor, back corner of the garage.
Someone is about to smash out the car windows when we discover that the rear hatch is NOT locked. Out comes our toolbox. Although there is a strong vote for destroying this creep's car, we resist. We still have to park 19, valuable antique motorbikes in this same garage for two more nights. If we get this crook pissed off, someone is going to have to sleep in the garage on guard duty. Its enough to get our tools back and to take a series of photos which Gordon shares with the local police on the following morning. Who knows the result?
Thursday, June 14
The morning task is to find a machine shop in the local ship port. They're glad to help and within a few minutes they have welded a new tooth onto Rossi's transmission shaft and bored and tapped my brake cam. Back to the hotel garage and we are assembled and ALL on the road again before noon. Our loop tour ride today is headed for the Cliffs of Moher.
One problem arises. Remember that I had a flat tire yesterday? Well nobody has told me that they all gassed up mid-day yesterday. So, mid-afternoon today, way out in the boonies, I decide to run out of gas and go on reserve. My motorbike finally re-starts and just as we launch off in first gear, Marco Freddi snaps his gear shift lever in half??
Wow, never saw that before. Today we have the van, so Marco gets loaded in. A few miles down the road is a pub. We haven't had a pint in awhile so we stop in. It starts raining.
Good news, there is a gas stand just 5 miles up the road so I won't run completely dry. And, the pub owner knows a farmer back a few miles who has a welder. Off goes the van with Marco's bike to find the welder. Sure, he has one, glad to help, but he only welds big things like tractor plows, etc. and he's not about to tackle this dainty work. OK, Marco is a refined machinist and welder so he commandeers the machine and welds it up himself. Good job. A five Euro tip to the farmer and he's quite happy. Again ALL are back on the road. The Cliffs of Moher were a dud in the rain. We got in a big todo when leaving the parking lot. All the bikes tried to pass the parking pay gate and tell the attendant that the guy in the van was paying for all. He would have none of it. Send the van guy up here in the pouring rain to pay and THEN you can leave the parking lot. What a twit!
At dinner, Regina and I celebrate our 32 years of marriage. Our joy together is somewhat constrained by our thoughts of Giuseppe Sinigaglia. He and his wife, Elena, were married in Italy within about thirty minutes of our wedding. We found this out later in life and we share congratulations each year. Alas, poor Giuseppe. I am so fortunate to have my wife along on this tour for celebration, but poor Giuseppe is solo. I understand. I have been away on previous tours when our anniversary came along.
Friday, June 15
This was planned to be my ROOTS day. With luck, our tour route would have put us through Thurles, County Tipperary at mid-day for lunch. Pierce Hayes my Great-Grandfather survived the great famine as a toddler here and was able to emigrate to the US as a lad. Great numbers of Irish perished in the famine. Lucky ones got away across the world. It has been 160 years and the population has still not recovered. And the country was exporting grain and beef while this happened. When in Dublin, we were able to visit the very dramatic Famine Memorial which commemorates the diaspora.
Perhaps I could find a distant relative. I know that the main hotel in Thurles is the Hayes Hotel. Alas, it is off and on rain all day. We are forced to take a more sedate and main travel routing on to our next destination at Waterford and we miss Thurles by some 30 miles. I can't justify demanding a circuitous and risky detour for 25 other people to suit my needs. I can't venture off on my own in questionable weather on a borrowed motorbike. There will be a next time.
Saturday, June 16
Today is a very tight schedule. We have to drive all the distance to Dublin, pack the motorbikes into the shipping container, and get these Italians all to the airport for a 4pm flight. Things do NOT start well. As we roll out of the garage, Lino Tovo discovers that HE has a flat tire. Part of the group has already driven off AND they have taken a wrong turn away from the Dublin direction. We have to fix the flat because the van is FULL with all our luggage. Between the repair and mis-direction, we are set back by some serious time delay. This is going to be close. Once on our way we are forced to ride harder, longer, faster than we have on any previous day. The payoff comes when Giuseppe Sinigaglia bends a valve just 20 miles short of Dublin. That one goes into the van and will get shipped home in the container as is. The only motorbike to not finish the entire tour. Missed by just 20 miles. Incredible machines and incredible roadside repairs along the way by our very competent mechanical crew. The container loading is again a clockwork example of teamwork and helping spirit. Good on ya, lads! We close and lock the container door just as the three van taxis arrive to transport our Italian friends off to the airport. (Ahem, note the container up and to the left of ours!!!!)
A teary departure. Hugs and kisses to all. Congratulations for another successful tour of Moto Guzzi Classics!
Sunday, June 17
Now we can take a deep breath and relax. The hectic touring is over. Everyone is gone home except for me and Regina. She flies home alone on Sunday morning. But not without incident. When we arrived two weeks ago, I bought bus passes for 6 Euro. (Actually, because I bought them in bulk I paid even less). These "Rambler" passes are good for a full day. Ride any bus. On and off. Good for 24 hours. This morning when I take Regina to the airport, I buy two bus tickets, 6 Euros each. But, when I get to the airport and send her on her way, I can't go back to the city. It seems I have purchased a one-way 6 Euro ticket instead of an all day 6 Euro ticket. They want me to buy another ticket to get back to my hotel again. WTF? Is there something I don't understand here? I gave you 6 Euro for a one way ticket, same cost as an all day ticket, and now you won't give me a ride?? I eventually find a sympathetic ear from one driver who tells me to sit in the back and lay low so the inspectors don't find me. What a system!
I remain to walk Dublin alone for the day. There is a big Gaelic Football match at Croke Park so I wander over there to enjoy the street scene and have a few pints. Tomorrow, an old friend comes to fetch me and I will spend a third week in Ireland to play golf. The hotel has been storing my golf clubs since my arrival two weeks ago.
I never got much sicker, but I also never quite shed the cold that I was nurturing. Perhaps the six pints a day had something to do with that. I did manage four rounds of golf, but I got some rain during each round. At the close of the week, I returned to Dublin for one night alone and then an early departure back to California. Oddly, I breezed through all of security like I was Mother Theresa. They barely even looked at my passport. I'm a threat leaving the US, but I can whisk right back in. Go figure. Now, don't you all fee a lot safer knowing these measures are in place?
Next year we tour north-western Italy, the region of Piemonte. Arguably the finest food and wine in all of Italy. Oh, and a few twisty mountain roads to boot!
Patrick Hayes
Fremont, CA