MOTO GUZZI CLASSICS
2015
FRIULI & SLOVENIA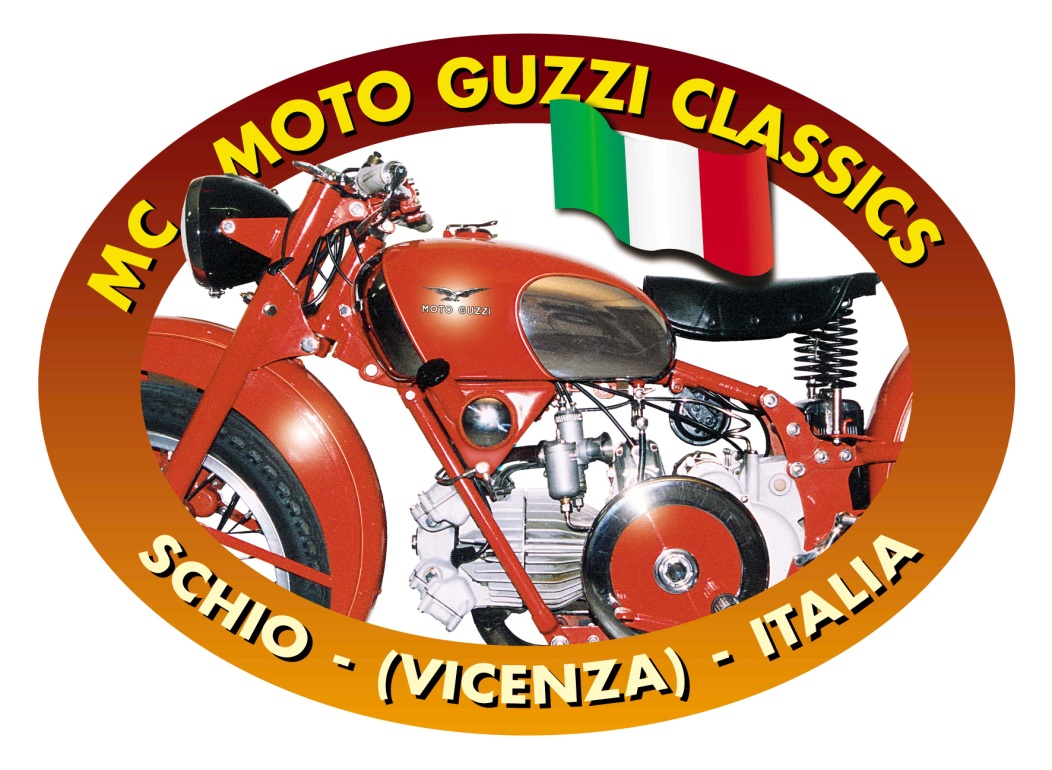 FRIULI is the mountainous region of northeastern Italy. Friuli is highly regarded for its quality wine production. Bordered by Austria to the north and Slovenia to the east. SLOVENIA is the first 'eastern European' country that you enter when leaving Italy. In addition to our regular Club members in Italy, this year we also hosted Mike Peavey from Boston and Alex Downie from the Isle of Man.
We started our tour with a day full of surprises. After many generations, Regina's ancestral family still lives on a small farm plot north of Venice. She and I try to visit there for a few days every time we tour through Italy to keep the old family connections intact. Regina was not able to participate in all of our tour, but she did come over with me for just a few days to visit her family and to host a surprise for the Club. We normally have a roadside picnic lunch each day during our tour rides. The Club is well aware that Regina's family lives nearby and that I had visited them often. So, it was easy to convince them that I had arranged for the first day picnic at the family farm. We would bring our own food and wine. The Club DID NOT know that Regina was waiting there and helping out with the setup. It was a huge surprise and lots of excitement as we rolled in. I have often contended that the Club members would rather see her than me at any time. In the center background on the left is Zia Rosetta, the de facto matriarch of the Cattarin clan. Still runs the family garden in her high 80's. Alex Downie and Mike Peavey examining the family's artesian well fountain which has never stopped running.
High in the mountains approaching Austria we visited a very small town of Pesariis. This town has a very long history and tradition of clock making and repair. A walking tour of the town shows a great many unique timepieces. This fence on the side of the road is a string of twelve large aquariums. Water trickles in until it fills the first aquarium. Adjustment allows that this filling process takes exactly one hour. Then, water begins to spill into the second aquarium, and so on. At the end of twelve hours, the filling of the final aquarium causes a trigger mechanism to open and drain away all of them at once. The valve closes and the process repeats. You tell time by counting the full aquariums and estimating the level of the next in line.
A clock for planets, not hours.
Prepping for a cold winter in the mountains.
The Giro d'Italia bicycle race came through here two years back. Someone is still celebrating!
We toured a local prosciutto ham production factory. Franco! Get your nose out of there!
We toured the historical winery of Count d'Attimis-Maniago. Production on this site for six hundred years!
Oh, we eat so well on these tours. Truffle mushrooms are very popular in this region so they are commonly added to pasta dishes. Intense flavor.
Slovenia Road Views
I always find kids to give out the "Balloon Land Speed" postcards.
Not always kids.
While the local Club members chip into the treasury in advance, it is easier for me to simply visit an ATM every day and max out a cash withdrawal. After a few days you have enough for the full cost of the tour. Mike Peavey was expecting to do the same. However, nobody advised him in advance that you can't use a six digit PIN number in a four digit Slovenian bank machine. It was forbidden for Mike to alter his PIN while traveling abroad. Fortunately, Mike and I share the same bank. So, he could easily transfer money from his account to mine and I would just hit the ATM once again. Serious coordination to avoid and excessive hit frequency and potential freezing of my card. It all worked out.
We spent one day visiting the boyhood home town of the famous racer Mario Andretti. At the time he had been born, the town was named Montona and was within the boundary of Italy. During WWII, most of the Italians in this town were moved away to refugee camps further inland in Italy. At the conclusion of the war, as penalty, portions of Italy were carved away. This portion was given to Slovenia under Yugoslav control. The town was renamed Motovun from the Croatian language. It became more fully independent after the collapse and partitioning of Yugoslavia. The Baltic region is a historical conflict zone of cultures and religions.
Alex Downie, Beppino Baudo, and Mike Peavey posing in front of Motovun.
Mike Peavey enjoying Mario's boyhood home.
A typical countryside view which Mario might have seen from his back yard.
We visited Lipica to tour the breeding and training stables for the famous Lipizzaner Stalions.
On return to Friuli, we visited the production at the Nonino Distillery. This is one of the most widely distributed grappa producers in the world.
We did very well on mechanical issues this year. The worst being an explosion of shaving foam within the Falcone tool cassette.
I spent a few final days in Italy before returning home to California. Attended a nice car and moto show in the main park of Vicenza in front of the train station.
A strange Falcone fuel tank. Large capacity used for the Milano-Taranto road race.
An electric start custom modification.
Patrick Hayes
Fremont CA