MOTO GUZZI CLASSICS
2002
CORSICA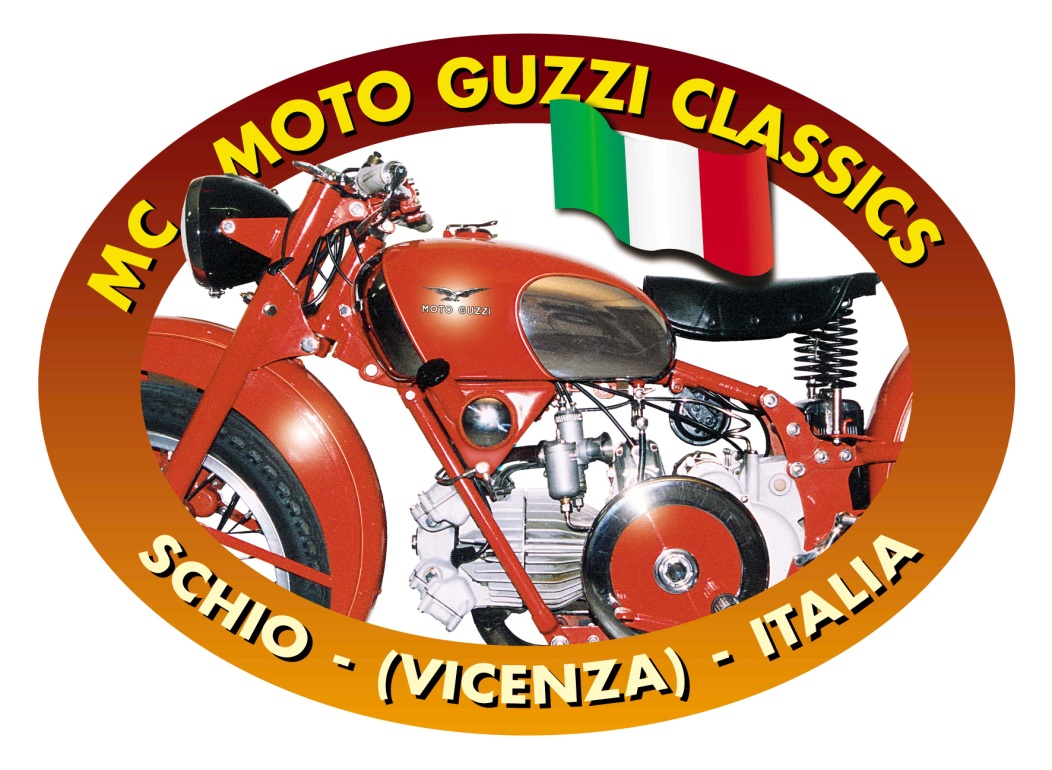 Corsica is an island off the west coast of Italy. Have to get there by a 4 hour ferry from Livorno. While currently under French control, the island has changed hands several times betwen Italy and France. There is a strong, local separatist movement which would like everyone else to go away and let them govern themselves independently. Ostensibly, Christopher Columbus was born on Corsica when it was under Italian control.
I never composed this report in 2002 when I had the tour. It is now 2018 as I draft the report from notes so you will have to forgive some lapses of memory. Also, as you will soon see, my camera had a big spot of dirt on the bottom-center of the lens which smudged every photograph until I discovered it and cleaned it off. Mea culpa.
My good friend Mario Sylvestri. This is the Falcone that he loans to me. I eventually use it over several future tours as well and put on far more mileage than he ever does. A true friend sharing a fine machine.
We begin our tour from Vicenza and drive across Italy to the west coast to meet our ferry. Our last night in Italy is lodging in Pisa with a restaurant hosting by the local moto club. We arrive in time for a brief walking tour of the tourism high points.
During our ride we run into a chap on this pristine Guzzi SuperAlce.
Next morning we ride down to Livorno to meet the ferry which will transport us and our machines over to Corsica.
Once on the island, we have to fuel up immediately. At the pumps we meet a nice, French moto gendarme. I was intrigued by his helmet. A full-face affair but the bottom chin bar split in the middle and slid away sideways so that he could converse with his contact clients.
Here we are all togther. All the bikes working properly. Nice day. Nice scenery. Rugged top of the mountains.
We are joined mid-week by Paul & Claire Jackson from Kent England. Paul became acquainted with this club when he was working for several years in Milan. This year they make an effort to ride down all the way from England to join us for just a few days of riding. A good friendship for me which continues into the future.
One of our regular club members is Gordon de la Mare, also from England. Gordon has arrived with his little Mercedes van and his Falcone inside. A little olive oil coating helps to squeeze it in.
Some touring days down along the coastal beaches.
Some days touring up in the very rugged moutains. Dense fog brought us to a halt. Steep drop on the side and hard to maintain balance without visual references.
Sometimes the mountains are clear.
One of our members is riding an ex-police, Savoy blue Falcone. (In the future I will eventually own one like this.)
At our hotel we meet up with this moto. On these twisty, narrow, rugged mountain roads, this behemoth seems so very out of place.
Tasty lunch of mussels down at the beach.
My early efforts to keep a running blog or diary and periodically post updates back home. Travel technology has come a long way since then.
We bumped into a local chap who was collecting and restoring vintage French race cars. He had several of these BNC racers in very fine preservation.
Every tour we have a variety of nuisance breakdowns. We very seldom have a complete failure which takes a bike off the road completely. Usually we get it back to the hotel and have it fully repaired overnight.
Lever Shock Absorber
Broken spoke.
Shift return spring. We almost never complete a tour without one of these failures.
Destroyed teeth on the clutch basket primary gear. This one did take the bike off the road. Since then, the club carries a mated gear pair and we can solve this one overnight.
Ooops! Top loosened up and fell off of the carb float bowl. We salvaged it by using a single-serve, aluminum jelly cup from a restaurant covered by duct tape and a zip tie. Worked fine for the remainder of the tour.
While the repair work was taking place, I hiked along the coastal road for about 1/4 mile and FOUND IT! Unfortunately, a bus had found it before me.
Some days we ride loop routes and don't take the service van along. If you have a breakdown, the bike gets hidden in the bushes until we can return with the van later in the evening. Marco's magneto stopped sparking and here he goes off into the wilderness to hide.
After leaving our return ferry back in Livorno, we rode across Italy to our home region of Vicenza. Just before finishing we stopped to tour the recently opened Museo Nicolis. Nicolis has amassed a very fine collection of old cars, motorbikes, bicycles, cameras, and office machines. This museum is just outside of Verona and I encourage anyone who visits the area to stop in and tour.
Studying a line of Guzzi singles.
A strange bicycle from Ireland. Both of the smaller front and rear wheels articulate for the steering.
Cameras.
Messerschmitt
Isetta
Part of a complete vehicle with all of the major components cut away and operational for display.
I've never heard of or seen anything like this before. An exposed valve, Guzzi powered, 4-seat taxi. Quite unique!
Patrick Hayes
Fremont CA