MOTO GUZZI CLASSICS
2005 TOUR
CAMPANIA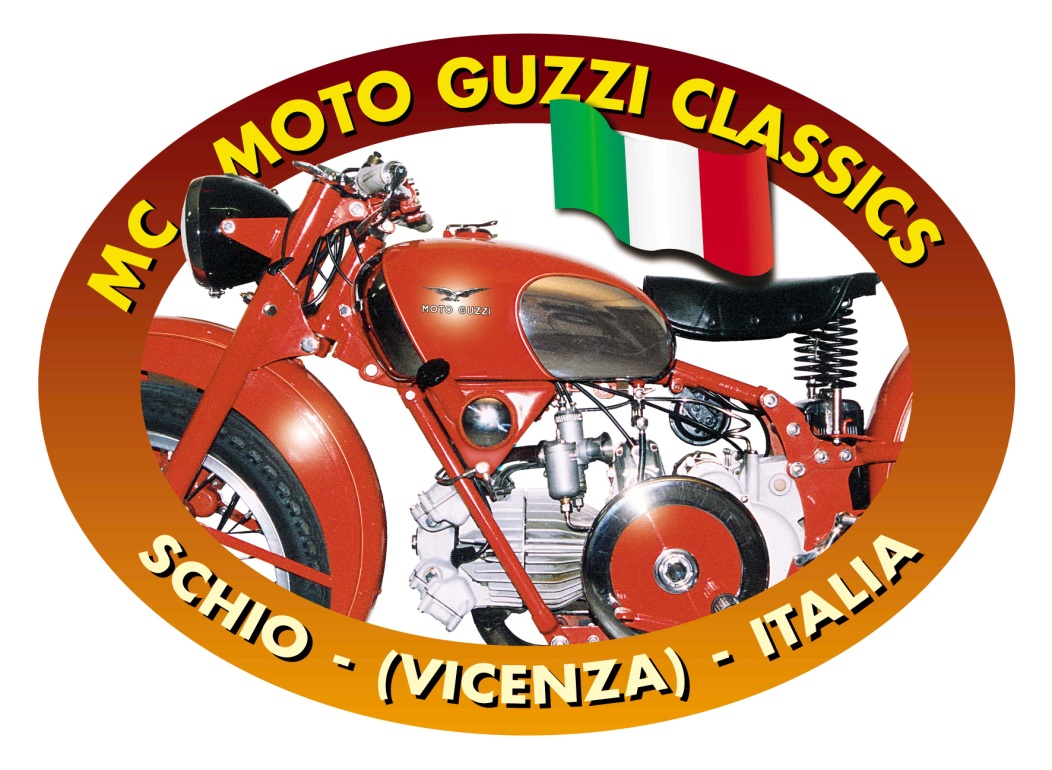 The region of Campania (comm-PAHN-nya) lies in western/central Italy. It is dominated by the volcano of Mount Vesuvius and the booming ancient City of Napoli just below. The region includes the surrounding areas of Pozzuoli, the Amalfi Coast, Positano, Pompei, Paestum, Benevente, and more. We had a splendid tour in 2005 with some of the best weather and certainly the most fantastic food I have ever eaten in all my visits to Italy.
Wednesday, May 11.
I flew on a mileage ticket so it is San Francisco, Washington DC, Munich, Verona. Long day and night in the air and in the airports. First problem arose in Washington DC. During this time period I was having repeated airport security problems. Seems that an old IRA terrorist bomber with the same name has been registered on the TSA No-Fly List. Security checks became a real hassle as I always had to prove my identity. The guy has been in jail for 15 years of a 30 year sentence. When he gets out I'm really screwed. Lufthansa fully loaded the plane and held them all while I was eventually cleared to fly. Quite some odd looks from the other passengers when I finally boarded. Jason Pfyffer greeted me at the airport arrival lobby having left his car parked out at the curb. Huh? Sure can't do that back home.
Thursday, May 12.
I spent the day hiking around Schio, north of Vicenza. I usually arrive in Italy and stay with my hosts Yvan and Donna Pfyffer to help get my mental clock and driving attitude adjusted before the tour. Yvan and I went for dinner to Mario Silvestri's home. Mario loaned me the better of his two Guzzi Falcone motorbikes for this tour. I used this same bike previously for a tour of Calabria in 2003 and of Corsica in 2002. It has been flawless each time. I try to be careful and ride five percent more conservatively because it is a vintage beauty that doesn't belong to me. I do have the occasional opportunity to get quite frisky with it. During the past year, Mario had upgraded this machine by modifying to the new four-shoe front brake design. More on that later. At dinner, I presented Mario with a signed Stephen Handley art print of a Falcone. He was thoroughly impressed and very grateful. But I am surely the more fortunate one. Mario and his sons run a business making wood patterns for Alfa Romeo casting molds.
The after dinner espresso was a bad idea and I should have remembered. I was already on jet lag and now I laid awake ALL night before a major ride.
Friday, May 13.
Good weather throughout the ride south. Eight of us started from Vicenza. One is assigned to drive the luggage van. Driving down through the city of Ferrara I get to put the new double front brake to a full test. I was riding in about 6th position through town. I could see some older woman walking along the sidewalk in front of a row of shops. She came upon a stray dog on the sidewalk, didn't like him, and shouted to scare him off. Guess where he went? It was very close. I surely would have T-boned him with the old single-sided two-shoe brake. We almost lost one rider a few hours later when a cock pheasant flew across the road at about five foot elevation and went right between the bikes. Its a long way from Vicenza to Napoli, even for a modern bike. So, we stopped halfway at the small Marche Region town of Ostra. Our good friend and Yvan's younger brother Angelo Pfyffer lives here. We are joined by six more bikes from the surrounding area. Most are Falcone but we do get a 250 Airone and another 500 GTV as well. All red of course. Ostra is such a wonderful town. Everything you've ever seen on postcards from rural central Italy. Just the last few kilometers into Ostra I saw something fall off of Mario's bike and tumble along the road. I had been to Ostra before so I broke off from the group and returned to fetch the part, but unfortunately some cars and trucks had beat me to it. It was only a cosmetic battery cover and hold down clamp. Easy enough to abandon those bits for this tour. A splendid dinner at the Pfyffer home with lasagna bianco (white sauce) and coniglio (rabbit). When I participate in these tours, I usually like to bring an American tee shirt for everyone as a souvenir. Some of these logos may look familiar to the southwest crowd.
Saturday, May 14.
We had a scary incident this morning. Italy is full of tunnels through its central mountain region. Some are lit better than others. We entered one of these and it was curved inside so that eventually you couldn't see either end. The tunnel lights were completely out. We were all wearing sunglasses because of the bright sunshine outside. It was incredibly dark with the feeble 6 volt Falcone headlights. VERY disorienting as you couldn't see the walls or curbs and began even to lose perception of balance without visual cues. Suddenly the brake light in front of me went bright and started weaving from side to side in a full lock rear wheel skid. Someone else panicked a bit up front and started a chain reaction through the pack. Fortunately we all emerged unscathed, but it was a very scary incident. After lunch we suited up for impending rain but we only got about 5 minutes and eventually we stopped to ditch the humid rain gear. Just as we started again, Lino Tovo's bike made a hideous sound and lurched to a dead stop. Something was very amiss in his transmission. He gets the van assignment now! Several of us joined in before dinner and stripped the clutch system down. It seemed that the retaining nut of the generator gear had fallen loose and dropped between the crankshaft gear and the clutch gear while all was in motion. A big pile of disgorged gear teeth was the result. The clutch basket gear is made of spun cast iron so that it takes all of the failure and protects the steel crank gear. This bike is destined for the van until parts can be express delivered two days later. The spare bike we have is a modern V75 Nevada. Tovo isn't familiar with the controls of a modern bike so I gave him my (Mario's) Falcone and I spent the afternoon on the Nevada.
Sunday, May 15.
We met up with a vintage moto club in Caserta. They escorted us for awhile with about 50 old bikes of their own and then treated us to a splendid lunch. We did a guided tour of the Palace of King Carlo in Caserta.
We rode up to ancient old Caserta in the hills. Tovo is in the van this day and proved to be a miraculous driver. The departure alleyway is only a few centimeters wider than the van and we discover it has two 90 degree turns! I figure we will never see the van again unless a helicopter is called to pluck it out. All the shop keepers had to come out to remove their wares from the outside walls and several cafe guests were forced to carry their food, tables,and chairs inside. The van emerged with only a few new scratches. Incredible.
We finally arrived to Napoli late in the day. We found two local cops on the corner seemingly giving someone a ticket. We asked for directions to our hotel and they assured us we would never find it. So, they abandoned the ticket, jumped in their car, hit the blue lights, and gave us a speedy escort through the city. Never stopped for one single intersection. Wahooooo! The cops were right. We NEVER would have found this place. By the way, much of downtown Napoli is paved with large granite slab cobbles,1 meter by 2 meters. Over the years these have been polished to a shiny, mirror-like surface. Scared the heck out of me. This was a dry day. How do these local riders handle it in the wet?
Typical downtown Napoli traffic.
Directing traffic during temporary road reconstruction. The Italians sure do have a sense of 'image'. Bella Figura and all that!
And this was the dominant billboard on display in multiple locations throughout the city. Roughly translated to "Why not give this a try?"
Monday, May 16.
We hired a big bus and a commercial tour guide for the day. Due to the hills and narrow alleyways, the bus could only get to about one kilometer from our hotel so they had to send a van just to take us to the bus. This is one narrow crowded place. Our day tour included the Greek and Roman ruins of Cuma and the dormant sulfur volcano of Napoli and some of the more famous neighborhood zones like Santa Lucia and Pozzuoli. Finished the day with a most exquisite pizza.
Tuesday, May 17
Local moto riders gave us a guided ride up the slopes of dormant Vesuvio. In the afternoon we had a guided tour through Pompei. I knew of this place and its tragedy, but I always thought of it as some small fishing village. No, it was a thriving, rich, metropolis. Perhaps 15,000 got vaporized here. A somber sign of what is surely to come for modern Napoli.
When we returned to the hotel, our express clutch gear parts had arrived and we dove into the clutch rebuild to get Tovo back on the road. Unfortunately, the generator gear was sized incorrectly. So, although the bike can continue on the tour, it will be without lights of any sort. The magneto handles the ignition without battery support. After we reconstructed the bike, the Napoli vintage auto club came to our hotel with a parade of old cars and took us to Pozzuoli for a most incredible feast. The restaurant was closed to all but us and our local hosts. Ignoring the after-dinner espresso and Lemoncello drink, we counted TWELVE complete courses. One course was served which looked a bit like creamed rice. Traditional risotto perhaps? Then I realized that each of the little white rice grains had two little beady black eyes looking back at me. This wasn't rice, but a myriad of very tiny fish. Here is another of our twelve courses.
Wednesday, May 18.
My turn to drive the van. I gave over my (Mario's) Falcone for Gordon DelaMare to ride. Gordon is our UK member and had flown down from his home in England just to join us for this three day portion of our tour. Surely he can't go home without a motorbike ride.
I drove this same van previously in the Swiss Alps and Alsace on our 2001 tour. No rear windows, so backing by mirror is a real challenge. We drove down the circuitous coastal route to Amalfi and Rovello. Daunting when you meet a huge tourist bus on a blind curve! In the town of Positano I was forced to do a tight hairpin turn on a very narrow street. Some local clothing shop had hung its merchandise to display on its outer wall. My left side mirror peeled off all of these garments and dropped them on the store doorway. The shopkeeper was not amused. But, hey, its a street. Don't hang your stuff out there. Not much later, my right side mirror whacked the shoulder of a pedestrian who had been so cavalier as to step backwards off the curb without looking. It was slow. No damage done. He apologized for getting in my way without looking. What a country! I can keep up with the bikes just fine, but I am repeatedly slowed by German and French car tourists who are scared to go through blind curves or narrow roads unless they have lots of room on each side. What a hangup. After reaching our hotel destination in Revello, we let Gordon shower and then delivered him down to the Amalfi bus station so that he could bus, train, fly back home to England that night.
On such narrow winding coastal roads, this is the only pratical way that road repair workers can bring tools and supplies to the worksite.
Thursday, May 19.
We were repeatedly held and stalled by the most horrific traffic in Salerno. As a result, we got WAY behind our day plan and had to cut off some touring ideas. We did do a lengthy guided tour of the wonderful Greek temples and museum at Paestum. Apparently better preserved than most things in Greece itself.
We stopped for lunch today at a farm that raises special water buffalo cattle to produce the wonderful Mozzarella di Bufala. These are lemon sized balls of cheese, heavily smoked on the outer skin (fumicato), with the internal consistency of a kitchen sink sponge. Bite in and the whey of the milk oozes out all over. Man that is great stuff!
My new found culinary friends. Thanks ladies!
We rode back along the coast as darkness neared. It had begun to rain lightly and we had a fairly low speed crash of one rider. After sorting things out and proceeding again, someone else crashed not 500 meters later. Easy boys! These are nice bikes that now have some minor sheet metal damage. One had a bent rim or spokes, but we carried a spare front wheel in the van. No serious damage to the riders other than badly bruised egos. It serves as a serious warning to me that I am riding some else's museum piece and I must always be especially careful. Tap wood.
Friday, May 20.
This day was a circus. Two local vintage Guzzi riders joined us at our hotel and guide us for the day up to the cool mountain air in Benevento and begin our journey back home. But the road signs were horrid and these guys didn't quite know the way through the Napoli suburbs. Image the worst possible traffic, fifteen vintage motorbikes and one van, and we had to REPEATEDLY stop everyone else so we could all do U-turns and get re-oriented. Eventually one of our local guides had his Nuovo Falcone fail and we had to unload all of our luggage to load him into the van on the side of the freeway. It was really a very bad morning. However, after being to treated to lunch in Benevento we then rode through crystal clear mountain air into the Abruzzo Region. The mountain scenes were incredible and helped us forget the morning hassles.
Saturday, May 21
We had truly glorious weather for our ride through the mountainous Abruzzo region. We stopped for a lunch of the most incredible meats in the small town of Noccia. Lots of specialty cuts of wild boar meat (cinghiale).
It is the weekend and the roads were now full of modern sportbikes. There is a reason that most of the famous car and motorbike racers have names ending in vowel sounds. These people grow up with a culture of roadway speed. Most actually are very good drivers. Some are near maniacs. We did come upon one highway curve with a crashed motorbike. Emergency services had been summoned already, but our own Dr. Barawitzka (yes, he is Italian) has jumped in for emergency triage until the ambulance and medics arrive. The rider was wearing full protective gear. He was conscious and moving. He perhaps had some internal injuries but should likely survive.
We returned back to Ostra where several split off to return home by car and trailer that night. We arrived early enough in the afternoon to see the shop and the impeccable reconstruction work done by our traveling mechanic, Pietro Piccione. This was his first tour with out club and wonderful guy. In fact, it was the first time in his business history that he had ever closed for a personal holiday! We've hooked him. He'll be back. I had to do an intimate inspection of his quality restoration workmanship.
Sunday, May 22.
We returned to Vicenza. I rode along side Mario back to his home to return his Falcone and give him my deepest gratitude.
Tuesday, May 24.
The return flights home were uneventful. No further issues with the infamous "no fly" list.
Some impressions:
I saw a LOT more police along the roads than ever before. Still this is a country of VERY fast riding and not to be dared by the timid type.
The women of Italy are exquisite beauties with the most highly developed sense of fashion. A continual treat for the eyes and the soul.
I have NEVER had a bad meal in Italy, even in the smallest and simplest place (in fact those tend to be the best). But, the food in the Napoli Region brought things to a whole new level. Just how many permutations can you make pasta and seafood?
The Italians are beginning to spend some money on the roadways. I saw a lot of newer, well marked intersections and roundabouts.
A fifty year old Guzzi Falcone 500 is still the MOST enjoyable of touring machines.
Next year, the island of Sardegna.
Patrick Hayes
Fremont CA
Moto Guzzi Classics MC