MOTO GUZZI CLASSICS
2003
CALABRIA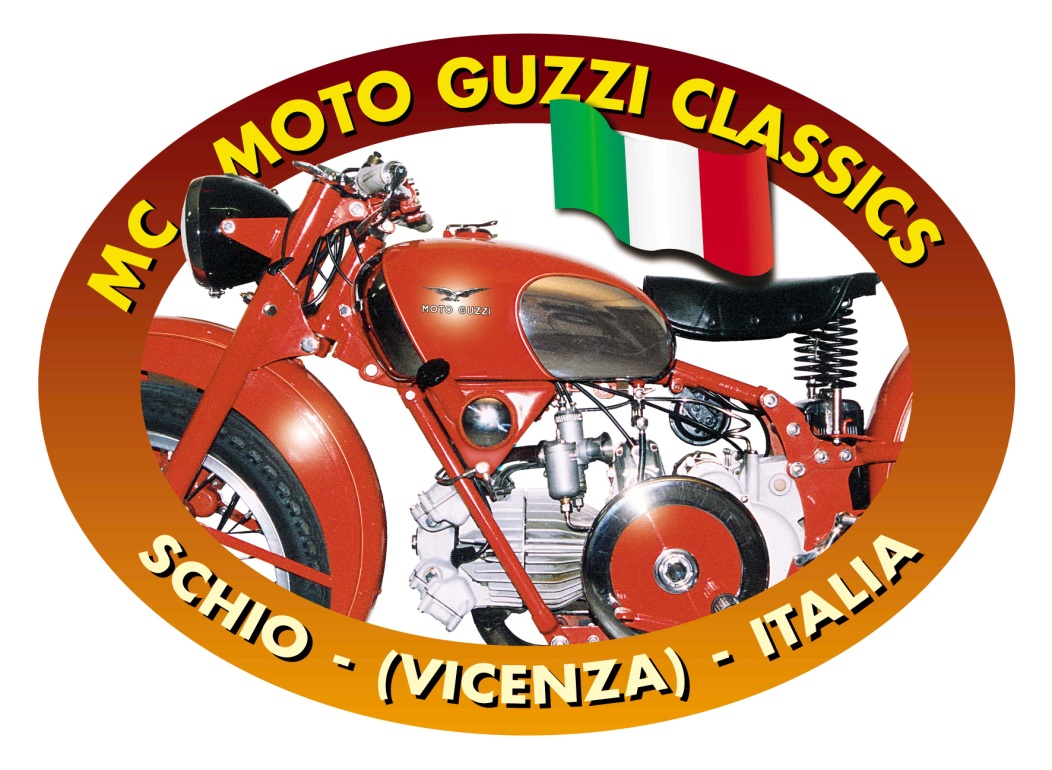 We visit the region of CALABRIA, the 'instep' or foot portion of the Italy 'boot'. Italy is roughly the same linear shape as California and is about 71% the size of California by area. Our club is in the north and Calabria is as far south as one can go on the mainland. Rather than ride our vintage machines all that distance we arrange to transport by truck and trailers. Our custom frame crates fit six bikes neatly on a flatbed truck.
Gordon has brought his Falcone down by van all the way from England and now it gets 'secured' on one of the several tow trailers. I was in a following car and shot this photo on the highway near Bologna with no safe place to pull off. We eventually stopped and did a proper strapping job. For the return trip north, we obtained a length of 25mm 'all-thread' rod and a handful of nuts and washers to create a very effective rigidity arm between the bikes on the trailer.
Our daily touring usually includes a simple but exotic picnic of fresh bread sandwiches of sliced local meats and cheeses. Sometimes we will stop at local vendors for pre-made lunches and exotic delicacies in the national tri-color.
We always have to have espresso right after lunch. We found a nice country roadside cafe. The sign on the counter made everything quite clear. "If you pay the way you want, you get service the way I want. If you pay the way I want, you get service the way you want." Perfect!
One picnic lunch was interrupted by a large herd of goats denuding the local hillside. They moved through quickly.
Lots of stops along the way to show off for the locals (nobody 'styles' like Gordon), confirm directions AFTER we get lost, take group photographs, visit churches. Always churches.
Always the occasional stop for mechanical repairs (centerstand spring) or deferring to local agricultural traffic needs (note the white dogs which protect the sheep).
Several nights in San Giovani in Fiori. Gordon and I sat on the sidewalk at this three-way intersection for about 30 minutes. This photo was a rare instance of no cars. Generally, there was a constant flow of vehicles. All three roads have STOP signs. We NEVER saw a single vehicle actually stop. We only rarely saw vehicles reduce speed at all. It was all mad chaos and flowed perfectly. "When in Rome...". Everyone knew and expected what everyone else was going to do. Works fine!
We got quite chummy with the hotel cocktail waitress. She had never been anywhere away from this local region. Desperate for a way out. Gordon offered her a ride to freedom!
One highlight was lodging and a tour of coastal Tropea. The local Guzzi Club made a BIG DEAL of our visit. Mayor presented us with a plaque. Local moto-cop gave us 'lights-on' escort all through the town. Joined by the local vintage car club as well.
Wearing my gift shirt in gratitude for his guidance and social attitude.
Next major stop was Regio Calabria, the coastal tip of the boot. Views of Sicily across the Straits of Messina. Wonderful dinner for us hosted by the Ferrari Club of Calabria.
Day visit around town with a visit to the local museum showcasing the DUE BRONZI DI RIACE. These Greek cast bronze statues were shipwrecked just off the nearby coast and lay there for 2000 years before discovery by divers. Amazing cultural artifact showing the skill and the artistry of the ancients.
Some interesting sights along the way.
Many, many coastal beaches.
Roman village ruins.
A little YDEA. Modern car which carries the trapezoidal license plate of a mo-ped. When country locals get too old to see or react, the government pulls their Drivers License. No worry. No license required to drive a mo-ped or an YDEA.
Stopped in one small village and saw this odd building front. The wording had been painted up during the Benito Mussolini Fascist period. The faded phrase is "Bisogna Volere, Fortemente Volere " Google translates that as "We must have desire, powerful desire." This is an abbreviation of a more complete Mussolini quote "We must have desire, powerful desire! Only with this power of will can we overcome every obstacle. We must be ready for all sacrifices." The building had been repainted, but nobody was going to paint over this historic symbolism!
Visited a local car and moto collector and found this MG. Long way from California!
Our Falcone motorbikes do just fine. But, sometimes they just aren't fast enough to satisfy the locals. This bus passed our entire fleet in one shot!
We returned to our original hotel for a final night and a reload of the trailers and crate truck. Once it was all set for transport north I found this. Close call!
Next year 2004 we anticipate SPAIN.
Patrick Hayes
Fremont CA