DALMATIAN COAST BY GUZZI FALCONE
CROATIA AND MONTENEGRO
2009 – MOTO GUZZI CLASSICS MC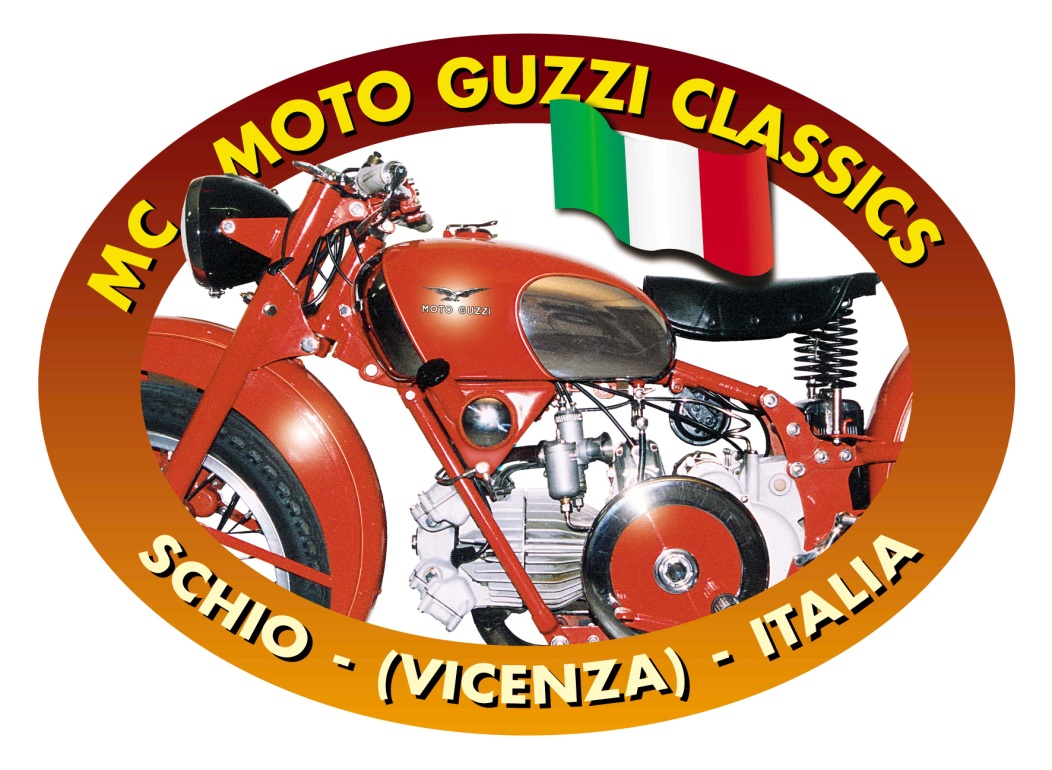 Sunday, May 24
For the first time in many years, I am able to log on and do an airline advance check-in from my home computer. I have had years of varying struggles with the TSA 'no-fly' system. I share names with an IRA bomber. Perhaps now it is all smoothed out.
Monday, May 25
Ooops, spoke too quickly. Although my flights were uneventful, I was delayed in the Verona airport as anyone coming from America had to fill out a very lengthy questionnaire regarding Swine Flu. They didn't bother to take my temperature, but just took my word that I was feeling fine. The form asked where I would be staying for the next two weeks. Yeah, right.
Tuesday, May 26
Off on the train for a one day visit with Regina's ancestral family near Treviso. Just to share pictures and current family status stories and to meet the newest baby in the clan. Transportation is really getting upgraded in Italy. The train from Schio to Vicenza is nice and modern now. In the past, it has been an old train with a cute diesel engine with a clutch and two speed transmission. It would run up to about 25 in first gear and then invoke this slow, clunking process to clutch and change gears. The new train is all diesel/electric with air conditioning and all. The old ways fade in romantic memory.
I wait only two minutes at the Treviso station before two young cousins arrive to fetch me. I spend the after noon and evening sharing family events and history. It is hard for me because my vocabulary is limited and although I get by, I quickly run out of things to communicate. Fortunately, various relatives keep arriving, so I get to tell the same stories over and over again and I improve my grammar ever so slightly on each conversation. Eventually cousin Simone shows up. He speaks fluent English for business and now I have a convenient crutch to help me through the various discussions.
Dinner becomes a festive event as thirteen relatives assemble. Food and wine are plentiful. I had no idea you could assemble and serve salad in fifteen different ways. This truly is Italy.
Wednesday, May 27
Toss the train ticket, Simone prefers to drive me back to Schio so that we can continue conversations and family relationship development. Back to Schio to pack and organize for the tour. We had a rather cute incident downtown during an afternoon coffee break. Sitting in the piazza, we gradually became aware of this increase in volume of an annoying sound. Some young mother was walking the street with a two year old toddler in tow. This child's shoes were fitted with some sort of 'SQUEAK' noisemakers. His tiny stride was perhaps 15". All the way up the street, squeak, squeak, squeak, squeak, squeak, squeak. What was this woman thinking? Sure, he will be safer and easier to relocate in a crowd, but this kid is going to mature into one seriously neurotic adult! Twenty minutes later they had completed their errand and migrated back down through the piazza once again; squeak, squeak, squeak, squeak, squeak, squeak.
Thursday, May 28 – Vicenza to Opatija, Croatia
The club always brings a van to carry luggage and tools and spares. The members generally don't want to drive the van and we often bring along some other cousin or brother-in-law as a van driver. I have volunteered to be the van driver for this year. While I certainly enjoy the vintage motorbikes, it is my friends and the camaraderie which are so important. I'll enjoy the van just as much.
We meet in Vicenza to begin the tour. Our president, my host Yvan, has had some recent medical problems and the doctor has forbade him from participation. We are all quite sad about this development. He will have to relive the trip vicariously through our photos and stories Personal healthcare is utmost.
Ah, yes, my van. Ducato Maxi van. 5-speed manual diesel. No windows, so all backing is by mirror only. After a few dicey kilometers I discover some unique handling attributes. Something is seriously amiss with the front suspension and steering. When I make a gradual lane adjustment, nothing happens. Try a little more pressure, still nothing, Finally a third attempt produces a dramatic launch into the opposite direction. I also discover that throttle-up produces a launch to the right while braking does the inverse. I have to drive this through a few thousand circuitous kilometers of coastal highways and mountain roads. My imagination is quite vivid. It becomes an artistic balancing act of steering pressure, braking and throttle variation to keep on the road and in one lane. To boot, I'm taking a lot of travel pictures while driving so the steering balance is mostly done one-handed.
The drive north is easy but boring. This is NOT a tour of Italy, so we just use the autostrada to make time. We have arranged to exit at Monfalcone and to meet the Swiss and the southern contingent all here. Just before the exit is a highway toll station of perhaps eight lanes and booths. Inexplicably, we line up and utilize the utmost left lane. As each goes through the toll, they move forward a few hundred yards and park along the left guardrail to re-assemble. Only now do they realize that the exit to Monfalcone is off the right lane and IMMEDIATELY AFTER the toll booths. So, quick turns and ninety degrees across eight lanes of traffic flow. But, I'm in a windowless van and the last to proceed! Just close your eyes and go!
In Monfalcone, it takes only forty-five minutes for the other contingents to arrive from Zurich and Ancona and we are all now fully assembled for the tour. Now I'm following a moto line almost twice as long. We're in unfamiliar territory. As we approach one intersection the leader realizes we're heading in the wrong direction and a string of chaotic u-turns ensues. As I approach this fiasco last in line, a police van approaches from the opposite direction. I'm not about to join the parade with him facing me, so I politely wave him through first and wait until he is out of sight before I commit my crime.
We have traveled first through Slovenia which is a part of the EU. No borders. When we stop for a coffee break, someone asks me for the van key and mumbles something about 'hiding' the lunch. ??? As we approach the Croatia border, I see periodic billboard signs showing pictures of various food products with a red X over them. I can't read the language, but its pretty clear what cargo is prohibited. When we cross the border into Croatia we are now in new territory and there is a much more formal stopping guard. Everyone has to show an identity card or passport and all are quickly waived through on the noisy motorbikes. Now its my turn with the van. I show my passport and the guard waves me onward. In twenty feet, another woman guard blows a whistle and shouts for me to stop. "Do you have anything in the van to declare?" Hmmm. I declare that a night in your jail will probably NOT be a good vacation plan. I declare that I don't know anything about that ham and cheese buried underneath all the luggage. She wants me to open the van for inspection. After a brief poke at a few of the topmost luggage pieces, she waves me onward. Close call! I think I've lost my appetite for lunch.
Somewhere in Croatia we pass through a road toll station. Although the sign says they accept Euro, the guard refuses these and wants only local currency or a credit card. European credit cards are like American debit cards and require a PIN entry for each transaction. The guard is incapable of computing the total of our tolls and charging one single fee. So, the club credit card has to be individually swiped and coded for each and every vehicle. What a joke! I'm surprised that the multiple transactions don't trigger a fault closure by the bank.
Friday, May 29 – Opatija to Plitvicka Jezera
The general forecast is for a fine day, but it soon is fully overcast, windy and cold as we rise into the mountains. One rider is on a GTV which has a much smaller fuel tank. He runs out of fuel at a less than appropriate location. A policeman arrives moments after. Although initially disturbed by our road blockage, we soon discover his mother is Italian and all is set right. A liter of fuel is drained from the modern bike and we continue into the next town for a general fuel stop. We come upon a temporary construction zone in the mountains, one of those with single lane traffic controlled by portable lights. It is green as we approach so we proceed quickly. But, the light changes back to red before my van arrival. I can't get separated from the club, so I just blow through the red light. Then, in the mirror, I see five more cars following me! So much for traffic rules. Riding through the mountain farm valleys it becomes apparent that everyone is living in relatively new homes. I gradually realize that old houses are there, but they are mostly damaged or burned. Bullet holes pock mark everywhere. Now we can see the real impact of recent warfare. Memorials to victim villagers are everywhere. The afternoon is spent visiting the National Park at Plitvicka Jezera. This is a series of freshwater lakes and waterfalls. We're planning a walking tour and boat ride. Turns out to be a tortuous trek on a rough, log-based pathway with a final 200 yard boat ride across the shortest width of the lake.
Saturday, May 30 Plitvicka Jezera to Sibenik
Forecast for rain but we start with a clear day. The mountain elevations produce some pretty cold air and the riders suffer a bit. Eventually we drop to sea level and milder air. I have my first near miss when we arrive at our hotel. The parking lot has a guard gate with a drop arm. The first rider notifies the attendant guard that we are all traveling together and the gate is lifted. But, they neglected to tell the guard about my van, the gate comes back down in front of my windscreen. I did not anticipate or see this happening. Just in time the guard realizes my plight, hits the panic button, and the rising arm misses my roof by a millimeter!
Sunday, May31 Sibenik to Basca Voda
Even though I am here to serve the tour as a driver, I have my riding gear in case the need arises for some emergency transport. A few members are sorry that I am stuck in the van (although truly I enjoy the drive) and they insist I ride at least one day. This one is a short day so I acquiesce to the generosity of Lorenzo Bono. We are supposed to take an afternoon boat tour of nearby islands. But the boat has also contracted a tour group of 100 young kids. I pass on the boat in order to walk and tour the town.
Monday, June 1 Basca Voda to Becici
The forecast is for light rain all day with some severe periods in the afternoon. We actually have an almost totally dry day. So much for forecasting. We do finally get the severe weather just as we approach Dubrovnik. Leaving the highway, entry to Dubrovnik is a deceptively steep downhill tunnel with an abrupt turn at the bottom end. The roadway in the tunnel is wet because of cars dragging in water. The downhill is hard to judge with no vertical references and so we just gain speed as we coast. Someone up front over brakes for the approaching curve and we have a chain reaction crash involving four bikes. One rider hits the ground hard and has a broken shoulder. Although we do have severe rain in the afternoon, we spend the majority of that time wating around at the hospital. The bright side is that we did get to meet some very nice policemen and even a judge. We don't understand the language well. Something about 'failure to control' and $180. All in all a rather interesting day. The border guard as we enter Montenegro is rather interested in the wine in our lunch container. Only entitled to one bottle import per person so I can only bring in one bottle. Language barrier makes it tough to convince him that these bottles all belong to the moto touring group parked right in front of me. Eventually he does the math and realizes we have enough people to cover all the bottles. Good thing he doesn't see the other three cases hidden under the luggage pile. Our broken rider is sent to the airport to fly home. He'll be much too uncomfortable even in the van after his drugs wear off.
Tuesday, June 2 Island loop tour
Pouring down like Noah this morning with a 90% forecast for the day. Our loop tour is abandoned while we do various repairs. We spend time sorting out the crashed motorbike so that it can be pressed into service as a spare if needed. (More on this later.) It finally clears late in the afternoon and we do a more simple local walking tour.
Wednesday, June 3 Becici to Cetinje
Raining once again. We're forced to move on. We have options of a long, scenic mountainous route, or a shorter, more direct route. We all opt to shorten in favor of safety. Still, the route is quite circuitous, wet, and foggy. One of the crashed riders is still feeling a bit sore and requests that he drive the van today and I drive his moto. Another new Falcone for me to ride in the rain.
Thursday, June 4 Cetinje to Cavtat
Glorious weather appears once again. Over the mountains to drop down into Kotor. This is all seriously rough terrain. In advance of lunch we reach the rim of the mountains and then drop precipitously down the sheer face to the hidden harbor city of Kotor. We can spot it in the distance with cruise ships moored in port. The roadway down the mountain is very narrow with numerous one-eighty switchbacks. Today I'm driving the van. Gradually I come to discover that there are public service buses and tourism buses that use this mountain road. All the companies have agreed that bus traffic is only one-way uphill and they will use alternate routes on the other side for return. Nobody invited me to the meeting. Snaking down the edge of this cliff, I confront five different, huge buses coming up. Only one lane. Someone has to give. It is incredibly difficult driving a windowless van backwards uphill. I rapidly degrade my standards as to what constitutes a reasonable safety turn out. If you use Google Earth or other mapping services, try to drop down on this LAT/LON position: 42° 24.205'N by 18° 46.835'E.
Kotor, Montenegro is a beautiful city. Close your eyes for just a moment and you will swear you have been transported across the Adriatic back to Venice.
Friday, June 5, Cavtat to Sibenik
Now I am done with the van. One of our members has pre-arranged to fly home for a major family event. The initial plan was that we would transport his moto back home in the van. But now, that van space is occupied by the crashed moto. So, we make quick overnight fax arrangements to put me on his insurance and I'm delegated to drive the moto home from here.
Today, in sunshine, we have a walking tour of Dubrovnik. The 'old town' is a walled city at the mouth of the harbor. For a small fee, you can walk atop the wall and circumnavigate the entire city. Again, Dubrovnik is very much like the plan and style of Venice except this one is perhaps on a thirty degree angle. Overlooking the city, I note that all of these old buildings have new clay tile roofs. As we leave the city walls, we see this demonstration map showing the mortar and bomb hits from the recent war. That certainly explains the new tiles. Very disheartening to view the beauty and culture of Dubrovnik and realize that someone on top of the nearby hills was just lobbing shells here day after day.
We stop and tour at Split, another harbor town reminiscent of Venice.
Saturday, June 6, Sibenik to Opatija
We stop for lunch to walk the old city of Zadar, yet another Venetian plan harbor town.
Sunday, June 7, Opatija to Vicenza
As soon as we arrive to Italy, we again break into three groups. A few go north toward Zurich. A few go south toward Ancona on the central Italy east coast. The remainder of us head back towards home at Vicenza. Forty kilometers shy of Vicenza, "snap", throttle cable. What luck. Its late, we're tired, the side of the autostrada is no place for repairs. We strip out the van luggage and swap bikes. Now I will ride the crashed bike the last few kilometers to home. This was a trip that I expected and had agreed to be in the van the whole time. In the end, I drove four different motorbikes over five different days.
Monday, June 8, Home again.
Next year, 2010, we will tour Puglia, the stiletto heel of the Italian 'boot'.
More details here: PUGLIA
A few personal impressions.
I finally get a sense of the economic power of the Venetian empire. The Adriatic coast is full of wonderful harbor cities, all built in the style and image of Venice at its heyday. While touristy, these towns and cities are a lot less commercial than Venice itself.
The Balkan Peninsula is known as "The Fracture Zone", due to its geotechnical upheavals and its cultural strife. Both are evident at every turn.
The Dalmatian Coast has wonderful roads. The pavement and the bridges are all new and built to modern European standards. Nice for tourism travel until you realize they are new because they were all recently blown up. All of the local cemeteries also have obvious clusters of new headstones.
In order to provide for safe, circuitous highway traffic flow, most of the coastal curves are very heavily grooved and scarified. The traction is terrific, even in the rain. But the handlebars are jumping all over the place. A bit disconcerting, especially since we recently endured a group crash.
Wow! Those Croatian women sure are tall!
Patrick Hayes
Fremont CA
Moto Guzzi Classics Motorcycle Club – Schio (VI) Italy